23rd Annual Patriot Festival July 4th 2013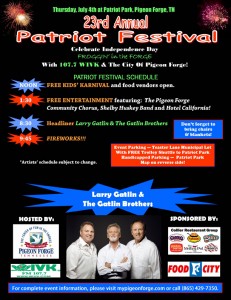 We're gearing up here in Pigeon Forge for one of our favorite events of the Summer- the 23rd Annual Patriot Festival on July 4th.
Each year we celebrate Independence Day in extravagant fashion in Patriot Park. Activities start at 12 p.m. with all sorts of unique activities and fun games for children.
Admission to the Patriot Festival is completely free and there's also free parking and shuttle service at the Municipal Parking Lot on Teaster Lane. Just ride the trolley free of charge to Patriot Park for the day's events. But make sure to bring some lawn chairs or a blanket to spread out!
There are all sorts of vendors around the park that will have food and beverages and a portion of their proceeds are actually going to local area charities.
Starting at 1:30 there will be live musical onstage entertainment featuring local talent in the Shelby Huskey Band, The Pigeon Forge Community Chorus, Eagles tribute band Hotel California, and others!
The main event in the musical entertainment will be when the Grammy award-winning Larry Gatlin & the Gatlin Brothers take the stage. A couple of their very well-known hits are "Broken Lady" and "All The Gold in California".
Beginning around 9:30 that night the event will culminate with one of the most impressive fireworks displays in the country. They pyrotechnics will be synchronized to music provided by the award winning country music radio station FM 107.7 WIVK.