3rd Annual Ice Carving Competition at the Titanic Museum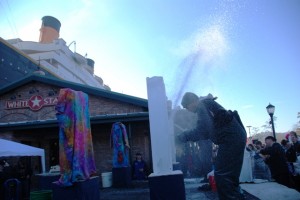 Pigeon Forge received its first snow of the year last week and the mountains are looking beautiful! The change of weather couldn't have come at a better time with the 3rd Annual Ice Carving Competition that took place Saturday, January 19th at the Titanic Museum Attraction.
Ice sculptors from around the world were on hand to compete in the contest. They each started out with a 250-pound block of ice and had a limited amount of time to sculpt and shape their unique creations. The winners were awarded with prize money as both professionals and amateurs participated in the competition.
In the past we've seen some of the most remarkable sculptures one could imagine and this year's results were just as impressive! It's hard to believe the things that these sculptors can create simply out of ice. The competition was held outside the museum in the Titanic's outdoor entertainment center.
After the event was over many guests took an official tour of the Titanic Museum, which is the largest of its kind in the world. Inside there are over 400 artifacts. Visitors can experience life on the Titanic by seeing the replica of the Grand Staircase, hear authentic stories from survivors of the shipwreck, and even touch a real iceberg!