Ahh…Pancakes, Pancakes, Pancakes!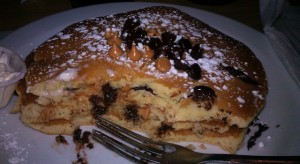 Pancakes are "what's for breakfast" in our house on Sunday mornings. It is one of the family traditions I started for us, mostly out of my love of pancakes but also because we had the same tradition in my house when I was growing up. This past weekend as we were sitting together eating and having some family time, Jellybean said "Mom, these pancakes are almost as good as the ones we eat at Log Cabin Pancake House!" Notice she said almost…but I still took it as a definite compliment!
Unfortunately, I don't think I can recreate their great creations, especially the sauce they pour over their Pancakes Royale. Her comment, nonetheless, brought a smile to my face and made me remember some of our many breakfast meals together in Pigeon Forge.
We usually only eat 2 meals a day while in Pigeon Forge because breakfast often fills us up until dinner.  Free breakfast at the hotel is great but we have too many favorite restaurants in Pigeon Forge that we try to get to during our stay. Dad and the little divas allow me to pick the morning eatery. I think they may have an ulterior motive behind it. They know when momma is happy it makes for a much more pleasant day for them!
Hidden agenda or not, pancakes are always the winner and it is another meal we get to share together.  Peanut loves it when I pick the Red Rooster Pancake House. Her favorite menu item is chocolate chip pancakes but I think what she really loves most is checking out the tractors and such while we wait on our food. Dad prefers my choice of Mama's Farmhouse because of the big spread they serve you.  I love them all and have yet to be disappointed!
I have even been known to pack my suitcase with some great pancake mixes and flavored syrups from the General Store or the Farmhouse Kitchen at the Old Mill and even the great sweet potato pancake mix from Mama's Farmhouse. It gives us a chance to have a little bit of Pigeon Forge with us back at home, so that it feels like we are always there!