Dollywood Opens Season With New Ride: FireChaser Express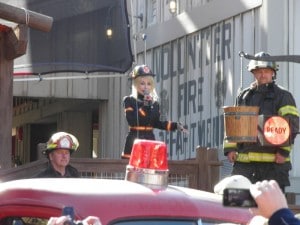 Roller coaster lovers across the nation now have even more reasons to visit Pigeon Forge after the new FireChaser Express opened today at Dollywood.
On hand to participate in the grand opening was Dollywood's namesake, Ms. Dolly Parton, herself. Dolly described the new ride and encouraged all those in attendance to get ready for one of the most unique roller coaster experiences they'll ever have.
While promoting the firefighter-themed FireChaser Express, Dollywood has incorporated all the firefighters who have helped countless people across the country. After an opening statement from Dollywood president Craig Ross, all the firefighters on hand were thanked for their service and the ride officially opened.
The rollercoaster is the first of its kind in the nation: a dual-launch family coaster called FireChaser Express. This ride uses dual-launch technology to travel forward on 2,427 feet of winding track then stop at the end and launch backwards reversing its course back to the starting point. The attraction is also unique because its 39-inch minimum height requirement allows entire families to ride together. Almost any 4 or 5 year old can ride this coaster, making it one of the most family friendly rides in the world.
Dollywood officially opens for the season Saturday, March 22 at 10:00 AM. The Festival of Nations will run through April 21. Come and check out what Dollywood has to offer this spring season, and be sure and try the FireChaser Express!