Dollywood's $300M Investment
Huge news for Pigeon Forge was revealed Wednesday, August 21, 2013 at Dollywood as they announced their highly anticipated plans for the next 10 years.
Dolly Parton's famously successful theme park announced investments of $300 million in development over the course of the next decade. The new developments include additions onto the existing theme park (including a new rollercoaster in 2014) and an extravagant new DreamMore Resort situated on 100 acres near Dollywood.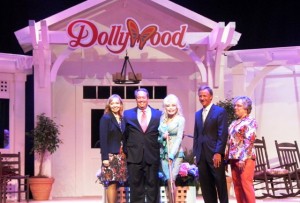 On hand for the big announcement seen left to right in the image were State Tourism Commissioner Susan Whitaker, President of The Dollywood Company Craig Ross, Dolly Parton, Governor Bill Haslam, and Pigeon Forge City Manager Earlene Teaster.
Dolly was certainly excited about the new plans revealed at the announcement. "This is the realization of a dream I've had for more than 30 years," she said. "My plans for the 10 years are to expand my Dollywood properties to offer families more opportunities to play together and grow closer while they make their best memories. It's truly the culmination of this country girl's wildest dreams!"
The DreamMore Resort, scheduled to open in summer 2015, is one of the most extravagant ventures Dollywood has undergone since its inception. The resort will feature over 300 rooms and will be equipped with unique family sanctuaries like fire pits, front porches, swings and hammocks plus storytelling spots located around the property. Indoor and outdoor pool complexes are included in the plans along with a spa, and a full-service farmhouse-style restaurant.
The rollercoaster planned to open in March 2014 will be the first of its kind in the nation: a dual-launch family coaster called FireChaser Express. This fireman-themed ride uses dual-launch technology to travel forward on 2,427 feet of winding track then stop at the end and launch backwards reversing its course back to the starting point. The attraction is also unique because its 39-inch minimum height requirement allows entire families to ride together. Almost any 4 or 5 year old will be able to ride this family coaster.
An economic study projects that Dollywood's investments could add $150 million annually to the local economy. Additionally, more than 2,500 jobs will be created as direct results of the investment and resort development, which can be expected to greatly benefit Dolly's native region of Sevier County and Pigeon Forge.