Dollywood's Splash Country set to open first water coaster RiverRush!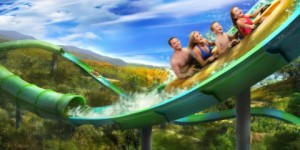 By now almost everyone has heard about the new water coaster, RiverRush, opening at Dollywood's Splash Country.
RiverRush, the first and only water coaster in the state of Tennessee, is four stories tall and features incredibly sharp turns, steep drops and cool dark tunnels. Essentially, it combines the best of both roller coasters and water slides.
We're getting closer and closer to the grand opening on Mother's Day weekend in May as officials say the ride is 95% complete.
Riders will sit in a four-person toboggan-style raft conveyed by linear induction motors up a 237-foot incline to the peak of the ride. This is where the action starts: a thrilling 25-foot drop, continuing through 1,175 feet of rapids, drops, 45-degree drop through tunnels with the whole thing lasting about one minute and 20 seconds.
Dolly Parton herself commented on the revolutionary ride saying, "At Dollywood, we made history with Wild Eagle, the country's first wing coaster, so I thought, why not do it again at Dollywood's Splash Country with my new RiverRush water coaster. You know me. I love making a big splash, and RiverRush is all that and a whole lot more!"
Splash Country, which will open for the season on May 11, was recently named America's Must-See Waterpark by the International Association of Amusement Parks & Attractions. In addition to RiverRush the park also features more than 23 other water slides, a lazy river, wave pool, and multiple other pools and play areas.
Go here for more information on the RiverRush, where there's a live countdown until the ride's grand opening.