Great American Summer- Dollywood Style
As I have mentioned before, no trip to Pigeon Forge is complete without a stop at Dollywood. This summer they introduced the event, Great American Summer. It runs from June 22- August 4 and park hours are 10 am to 10 pm daily. That is 12 hours to enjoy all the park has to offer and our plan was to do just that! An added bonus is that the day ends with Dolly's Nights of Many Colors- a fireworks show synchronized to music.
As we were eating breakfast at Log Cabin Pancake House on the morning that our family was headed to Dollywood, we met a family from Canada who were visiting Pigeon Forge for their first time. They asked us for some recommendations on things to do in the area. The little divas quickly piped in and said "You have to go to Dollywood!" They commented back that they were too old to ride roller coasters so they did not think they would enjoy it. We had a great time sharing with them that there is much more to Dollywood than just rides. There truly is something there for all ages. From the craft areas and shopping to the first class shows. Not sure if we were able to convince them to go or not, but we sure tried!
The Gazillion Bubbles: New Dimension show as well as the new GACTV show-The Great American Country Show were both on our list for this visit along with lots of rides, eating, and a little shopping. First stop was The Gazillion Bubbles show which featured Guinness World Record holder Ana Yang. Peanut and Jellybean were both at the edge of their seats for the entire show and even dad and I were more than entertained watching the excitement in all the kids. Bubbles are just one of those things that you never grow too old to enjoy! Next up was some time on the rides. Peanut, our once non-adventurous/ non-thrill seeking child decided this trip that she wanted to ride the big roller coasters. She rode Thunderhead- the wooden roller coaster and Barnstormer multiple times with dad and Jellybean but one trip on Mystery Mine was enough as she was still a little apprehensive about going upside down. So, Tennessee Tornado and Wild Eagle were out of the question for her but not for dad and Jellybean. I am filled with emotions as I watch them all go on the rides- fearful because I want everyone to stay safe, excited that both of the little divas are able to conquer fears, and bittersweet that they are growing up so fast and are actually tall enough to be able to go on the rides!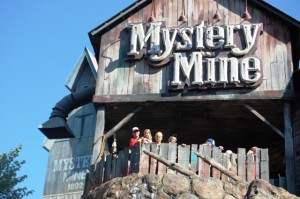 Once everyone decided that they were hungry, we chose to try the pizza and pasta buffet at Backstage Restaurant. The food choices were plentiful and quite tasty. Strawberry Shortcake made her presence as well as Trapper and Baxter Bear while we were eating. Peanut is still young enough to want to hug them and give them a high five while Jellybean was little less impressed.
After we filled our tummies, on to GACTV- The Great American Country Show. This was quite a show- with quality performers and great on screen commentary from current GACTV personalities. They performed current country hits which allowed the little divas to sing along with them. Definitely a must see show!
That was about all the time that I could take from everyone for shows, so more rides it was. As we closed our day watching the fireworks show, we all looked at each other and remarked what a great day we had. Dollywood sure knows how to provide great, family friendly entertainment!