Holiday Events at Titanic Museum in Pigeon Forge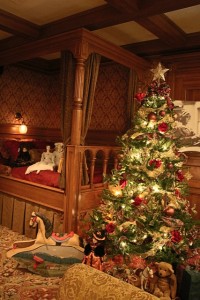 If you come to Pigeon Forge during Winterfest you're likely to notice the lights and decorations on the giant replica Titanic Museum as soon as you enter into town. The holiday season is a special time at Titanic!
The 2nd Annual Fireworks on Thanksgiving at the Titanic will be the first of many seasonal events at the attraction. Starting at 7:30 PM, brilliant displays of fireworks will be launched off of the deck of the Titanic, in commemoration of the lives and legacies of those that were onboard the original Titanic over 100 years ago. "Our Thanksgiving fireworks display serves to usher in a new holiday Christmas season of hope and promise for all of us," says Titanic Museum co-owner John Joslyn.
Additionally, the Titanic will produce falling snow off the bow of the ship each night after Thanksgiving and even during the day on Saturdays.
From November through December the entire museum will be aglow with lights and adorned inside and out with beautiful holiday décor. The Titanic Gift Shop is open and has free public access to Titanic Christmas gifts. Try and collect all four handmade Titanic Christmas ornaments!
A full slate of events is scheduled for the holiday season: author book signings, Fantasy Princess Greetings and more. Make plans to visit Titanic Museum in Pigeon Forge during your visit to The Land of More during this holiday season!