Irish Month at the Titanic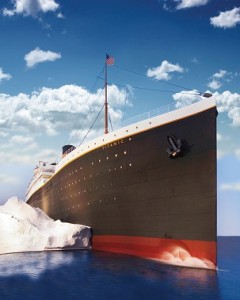 The month of March, and especially St. Patrick's Day, has long been associated with the Irish culture. Over at the Titanic Museum Attraction here in Pigeon Forge they stay true to their Irish roots by officially declaring March to be Irish Month!
This month-long celebration consists of the many traditions associated with the Irish. There will be singing, dancing, traditional Irish storytelling and Gaelic humor.
The link between the Irish and the Titanic goes back a long way. More than 100 years ago the Titanic was built in Belfast, Ireland mainly by Irishmen. This is why Ireland is known as the country that gave birth to the Titanic. Also, there were over 120 Irish passengers on the Titanic when it sank.
Come and see the same Irish step dancing and music that took place deep in the lower levels of the Titanic on that voyage over a century ago. You'll also have a chance to explore Irish history and maybe even your own family's history with the genealogy experts.
It's sure to be a memorable experience and there's no better place to experience the joys of being (or at least pretending to be) Irish! The Titanic Museum attraction is open daily from 9:00 AM to 6:00 PM. More information can be found online here or by calling (800) 381-7670.
View more Pigeon Forge attractions for your next vacation!