It's tournament time! Trout tournament that is…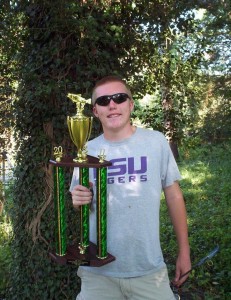 Fishing has become one of the favorite activities of those who visit Pigeon Forge and the Smoky Mountains, and the area's biggest fishing event of the year is just around the corner!
Saturday, April 6 marks the beginning of the prestigious Smoky Mountain Trout Tournament. This will be the 14th annual tournament held each spring here in Sevier County.
This two day tournament (Saturday & Sunday) is open to tourists and locals, adults and children. More than 20 miles of streams will be stocked with 10,000 trout prior to the event. Participants can register for the tournament by paying $25 per day or $40 for the whole weekend.
More than $10,000 in cash and prizes will be awarded. These include $500 for the largest trout, $500 for the smallest trout, gift certificates, trophies, fishing equipment, hotel & motel accommodations, and passes to local attractions.
Tournament hours are 30 minutes before sunrise and lasting until 4 p.m. on Saturday and 2 p.m. on Sunday. Weigh-in for the caught fish will be held at Patriot Park in Pigeon Forge at the end of each day where the prizes will be awarded.
The Little Pigeon River, part of the namesake of Pigeon Forge, is one of the most beautiful places to fish in the world and there's no better time to try it out than during this tournament.