Lumberjack Feud-Talent, Skill, Good Time!
It is a given that the little divas love, love, love going to dinner shows in Pigeon Forge. However, the dinner shows we usually attend involve lots of singing and dancing. This summer, Dad and I wanted to check out Lumberjack Feud as it was a new show in 2012. We had seen a preview of the lumberjacks and their talents at the Patriot Festival the summer before. Both of us were a little nervous on how it was going to go with the little divas as we were not sure if they would enjoy it as much as we would. But, we decided to take charge of the schedule for the night and headed to Lumberjack Feud!
The host seated us and soon after, our dinner arrived in a picnic basket. Inside were 4 individually divided containers holding our meals, a basket of rolls, and 4 individual jars of strawberry dessert. I was very impressed with the presentation! Macaroni and cheese was on the menu, so Peanut was happy despite not eating much else. We enjoyed the pre-show while eating and consensus from the family was that the food was good! If you are not interested in dinner, there is a ticket option for "show only" and it is offered at a lower price.
The show is based on a feud between the Dawson family and the McGraw family. Competitors from both families compete throughout the night. We were a part of the Dawson family and had a great time cheering our guys and gal on. This is definitely a show of physical skill and talent. These guys are professional timber athletes and their hard work shows! I enjoyed the  rolling the most but I think dad and the girls liked the tree climbing event better. Jellybean and Peanut got asked to help in one part of the show. Jellybean got to shoot a sling shot and Peanut was her helper. Both of them got a "wood cookie" for helping. They couldn't wait to get it autographed after the show.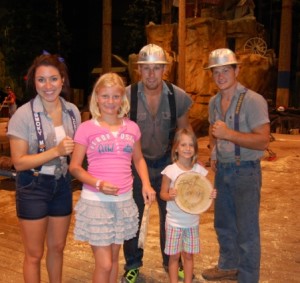 No show in the Smoky Mountains is complete without some involvement of the black bear! So you got it, the show involves some black bears and they along with Ranger Black add some comedy to the show. The girls also loved watching the Timberdogs compete. Even the dogs exhibited great talent!
Lumberjack Feud was a nice change to our usual song and dance shows. We were completely wrong about the little divas not enjoying it. They loved it and were at the edges of their seats cheering for the Dawson family the entire show. It is a must see show on your next visit to Pigeon Forge!