New Travel Channel Show to Feature Pigeon Forge!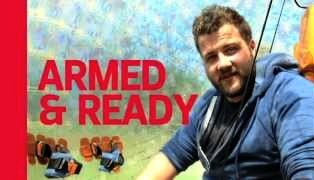 Lovers of the Travel Channel should definitely check out their new show Armed & Ready starring thrill-seeker Kevin Connolly.
Connolly was born without legs but he manages to overcome that obstacle time and time again as he seeks out new adventures.
One of the coolest aspects of the show is that the premiere episode takes place right here in Pigeon Forge! Connolly will join the lumberjacks from the Lumberjack Feud show as they scale 50 foot tree up in the Smoky Mountains. He also tosses some razor sharp axes into targets true to lumberjack fashion.
"Kevin is a true adventurer," added Andy Singer, General Manager, Travel Channel. "He experiences the world unlike anybody else and Travel Channel's audience will be fascinated to see his journey through his eyes and point of view."
As many of you know, the Zorb attraction in Pigeon Forge is the only one of its kind in the United States and Connolly couldn't pass up his chance to strap into the giant bubble-ball and roll down the mountain side. Lastly, Connolly gets into a custom cataraft and tries to solo some of the Class 4 rapids presented by a nearby river. It's sure to be an interesting show and will give viewers a chance to see some of the awesome attractions that Pigeon Forge has to offer.
Armed & Ready will air for the first time Tuesday, Feb. 26 at 10 p.m. ET.