Opry…Smoky Mountain style!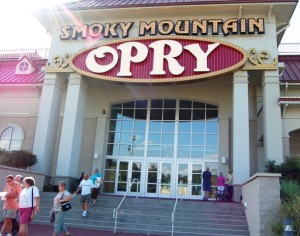 The Smoky Mountain Opry joined the Pigeon Forge theater line up in 2012 and we got to check out a matinee show during our summer visit. We had seen their brochure and couldn't wait to see the new light and stage set up that it bragged about. The show is housed in the former Miracle Theater which we loved when we saw Joseph and the Amazing Technicolor Dreamcoat. The auditorium is very spacious and family friendly and has a great view of the stage from anywhere in the room. Best part is that this show is one of many you can purchase at a discounted rate if you buy combo tickets.
The show showcased a great variety of music including 40's Broadway, current pop and country, patriotic, gospel, as well as famous Hollywood movie songs. There are singers and musicians flying through the air and very cool lighting effects that add to the ambiance. There is even a little comedy thrown into the show with a ventriloquist and his sock puppet.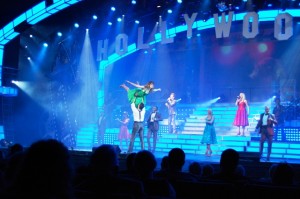 Two of the lead singers are a married couple and when they sang together it seemed truly heartfelt. My favorite was a performance of a Garth Brook's song as it took me back to mine and Dad's college days. Peanut's favorite part was watching the girls come out in their many different, beautiful, and glitzy costumes throughout the show. Deep down, I know she is dying to get up on the stage and dance with them! Jellybean is old enough now to really enjoy the fine talent displayed through the singers. I looked over and even caught her singing along to several songs that she knew. The best part for the little divas of any of the shows we see though is getting to have their picture taken with several of the cast members after the show. That is the part they usually remember the most and it makes them feel extra special.
Fun time and memories were had at the Smoky Mountain Opry. I am sure hoping that we can get back to Pigeon Forge soon!