Pigeon Forge Vacation Tips, Tips & More Tips
Have you ever been on a vacation and said to yourself, "Wow, I wish I would have known that ahead of time"?  This has been true for our family so many times, especially when it involves saving a little money. Let's face it……vacations can get quite pricey!! I am going to share a few handy vacation tips that we learned on our last trip to Pigeon Forge.
Order a Pigeon Forge Travel Planner from www.mypigeonforge.com before you go. It has great info about the area as well as some discount coupons.
Save time by buying your tickets online. You can often times get better seats for shows as well as a price discount.
Once you are there, don't pass up the brochure stands at almost every location in Pigeon Forge. There are coupons/discounts to many of the area shows, attractions, and restaurants. For example, while we were go kart racing at Xtreme Racing, we picked up some coupons for LazerPort Fun Center which scored us a buy one get one round of black light miniature golf as well as a coupon for a buy one get one free ice cream cone at their Sweet Sensations Ice Cream Parlor.
Hatfield and McCoy Dinner Feud Show – Buy a regular price ticket to the Hatfield and McCoy Dinner Feud show and add tickets to Comedy Barn, Blackwoods Morning Variety Show, or the Smoky Mountain Opry for only $15 more per adult and Kids (11 and under) are free for the additional shows after purchase of regular price ticket to the Hatfield and McCoy show. What a deal!! On a side note, moms, you are going to want to go a little early to this show so that you can take advantage of all the great photo props outside on the property!!
The Island – They have a combo price for a day and night ride on the Wheel. It is only $2.99 more than a reg. price adult ticket!!
Wonderworks – Admission is good from open to close. You can come and go all day!!  There is also a combo package that is cheaper in the long run if you plan on seeing the Wonders of Magic show as well.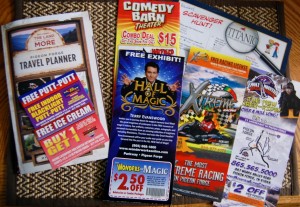 Hollywood Wax Museum  – Pick 3 Combo is the best value. All 3 attractions for less than $10 each for an adult and for less than $5 each for a child (age 4-11). Wow!!
Mama's Farmhouse – Kids under 5 eat free! This doesn't help us out anymore, but I know it will help lots of others out there. There is nothing worse than paying for a meal when you know your child will not eat very much of it.
Old Mill – If you fall in love with the fritters as much as our family did, you can buy some of the mix at the Old Mill General Store so that you can make them when you return home.
Titanic – There is a printable scavenger hunt that you can get off the education tab on their website. This made our visit more fun for the girls and I even learned a few new facts!
This is only a sampling of the great values to be found in Pigeon Forge. So plan ahead and enjoy a little extra fun with your savings!