SEAA Girl's Softball Fast Pitch World Series Hits Pigeon Forge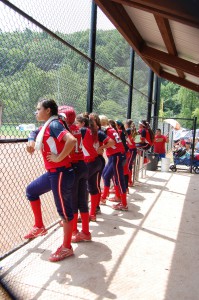 Young ladies from across the US will be hitting the red dirt to play softball in the SEAA World Series tournament in Pigeon Forge from July 17-26, 2015. Over 80 teams ranging from 8U-18U will be playing their hearts out on the beautiful fields at Wear Farm City Park and vying for that 1st place title and trophy. The complex offers 5 fields, which are surrounded by beautiful mountain scenery. There is a park for entertaining the younger siblings as well as picnic tables for snacks in between games.
The tournament offers lots of activities throughout the week for the girls, like a "Welcome to Pigeon Forge" party at the Island as well as SEAA night at Dixie Stampede and Hatfield and McCoy. There is
time to get work done and still have some fun too.
Both of our divas have a passion for softball and we experienced this tournament firsthand last year with our oldest. Her team along with 3 others from Texas traveled to Pigeon Forge to give it their all. The girls and their families had an amazing time at both the tournament as well as in Pigeon Forge. Lots of great memories were made and an eagerness to return again.
Thank you SEAA and Pigeon Forge for this great softball opportunity!!