Smoky Mountain Adventure on Armed and Ready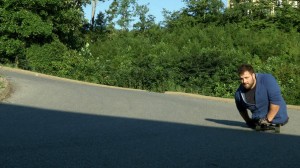 I got the chance to watch Armed and Ready on the Travel Channel last night. Wow…Kevin Michael Connolly is one very adventurous and determined guy despite the fact that he was born with no legs. Last night's adventure was filmed predominantly in Pigeon Forge, and Connolly's goal was to climb a 50 ft tree over in the Great Smoky Mountains.
The show starts with him heading down the Parkway on his skateboard. It made me miss the town even more as I watched him pass by some of our favorite attractions, like Hollywood Wax Museum, Hatfield and McCoy Dinner Show, and WonderWorks.
His first stop was the Zorb. Dad is the only one in our family who has taken on this adventure. The little divas were too young at the time and I could not get over my fear of being out of control. I was scared for him as he pointed out that he was only going to be secured by a 2 point harness vs. the 4 point harness used by most participants. However, he made rolling down that hill in the hamster like ball look easy and then he even tackled the Zorb with water!
Next, Kevin went rafting down the Pigeon River on a cataraft. This is something our family has never done, but after watching him, I think we need to check it out. The waters looked exciting and refreshing, but not sure we would be ready to take on Class 4 rapids like he did! I think we would have to go with a calmer class of rapids.
Continuing on towards his goal of climbing a 50 ft tree, he stops in for some lessons with the guys from Lumberjack Feud. They put him through some of their timber sports like axe throwing, log rolling, log sawing, and speed climbing. They built him a custom rig for scaling the tree and tested it out and made modifications to it before they headed out to the pine trees in the Great Smoky Mountains. In true champ style, Kevin climbed the tree and the view he had was amazing!
This guy totally made me feel like a wimp and left me wanting to plan more adventurous outings for our next visit to Pigeon Forge!