Sweetheart Month at Titanic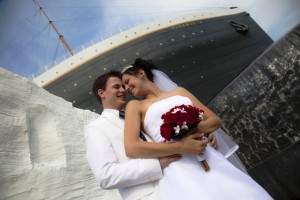 February is a month of romance. Valentine's Day comes around towards the middle and love seems to be in the air for the whole month. That's certainly true at the Titanic Museum Attraction in Pigeon Forge as February marks their celebration of Sweetheart Month.
The people at Titanic will honor love and romance for couples in very special ways during Sweetheart month. Couples can have marriage ceremonies and Vow Renewals on the world famous Grand Staircase. The ceremonies are even presided over by the captain of the Titanic himself!
When the Titanic held its voyage over one hundred years ago there were many young women and men who were in love, awaiting marriage, and looking forward to their new life in America. There were countless brides-to-be sailing on the ship just like the fictional Rose DeWitt Bukater from the TITANIC movie. Twelve newlywed couples were celebrating their honeymoon onboard the ship back in 1912 with some staying in the elegant suites of first class. Who knows how many stood on the bow of the ship together with arms open wide in the now famous pose?
In order to have your marriage or Vow Renewal ceremony you'll have to make reservations. As you could imagine, these slots fill up incredibly fast so be sure to reserve yours now! These can be made by calling 1-800-381-7670.
Titanic Pigeon Forge will also celebrate February by honoring all teachers. All teachers can visit the museum completely FREE from Feb. 1 to Feb. 28. Tickets can be reserved online, over the phone, or at the door as long as teachers present their Paycheck Stub/ID or ID Badge upon arrival.