The Island Experience: Part 1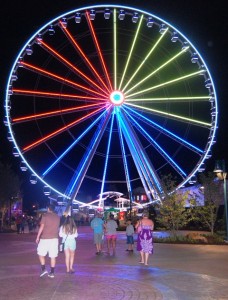 The newest and hottest thing to hit Pigeon Forge is The Island. Our family's excitement was hard to contain when we realized that it would be opened just in time for our summer trip. Even though it is only a block off the Parkway, this new treasure makes you feel like you are miles away. You can shop, eat, relax, and play all without leaving this quaint family-friendly area. We loved it so much that we made a stop there almost every day of our vacation. This says a lot since the little divas usually have quite an agenda planned for each of our trips. Instead, this time they were rearranging plans to figure out how to get back to The Island!
As we walked into The Island area on our first night in town, we were mesmerized by the light show on the main attraction…The Great Smoky Mountain Wheel. More than 1 million LED lights are continuously changing and offer up a show that you can sit and watch over and over. However, Jellybean and Peanut quickly reminded us that a ride on this enormous wheel was what we had been anxiously awaiting. I worked very hard to curb my fear of heights because I didn't want miss the experience of it with my family.
All four of us were all able to get into the same gondola for the ride. The gondolas are glass enclosed and even air conditioned…you can't ask for a better ride! We had some great family conversation as we made our trips around and around. Each time we were anxiously waiting to reach the top. The Wheel offers priceless views of the surrounding mountains and the city from every angle. Thumbs up on this attraction!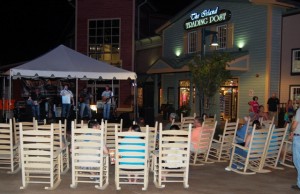 Afterwards, we just walked around, taking in all that The Island has to offer. There is live music every evening and it was very relaxing to sit in the rocking chairs around the stage and listen while the little divas took a ride on the nearby carousel. We capped off our evening with a little late night snack of fresh mini donuts from one of the vendors. It was a very tough decision because there are plenty of places to please any sweet tooth, like The Fudgery, Cinnabon, and Aunt Anne's Pretzels to name a few.