Titanic's 100th Anniversary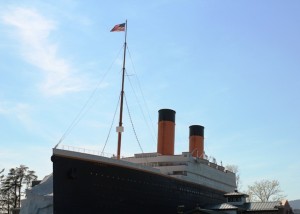 April 15, 2012 will mark the 100th year anniversary of the sinking of the great RMS Titanic. It is a day in history that still lives on. A trip to the Titanic Museum Attraction during this anniversary year would be a great way for your family to relive the legacy of this icon. The museum will be offering an ongoing series of special events, activities, and ceremonies leading up to the anniversary. Be sure to check the news and events page on their website for the most up to date calendar of events.
Currently, each guest visiting the Titanic in Pigeon Forge is being given a single rose petal to place in a glass container in the Memorial Gallery. On April 15, 2012, these rose petals will be placed in the Atlantic Ocean by the US Coast Guard, where the Titanic went down. What a great way to teach our children the principles of honor, courage, and respect in remembrance of the passengers and crew aboard during the tragedy.
Also, for all of you fans of the James Cameron movie, Titanic, it will be re-released in 3D on April 6, 2012. The museum is going to have a special exhibit gallery featuring props and costumes from the movie. The displays at the Titanic in Pigeon Forge are already top notch, so I am sure this exhibit will be no different.
A special anniversary ceremony is scheduled for April 14 and 15, 2012. It will include a candlelight ceremony and the lighting of an eternal flame in remembrance of each brave soul aboard the Titanic.
Our family visited not long after the Titanic Museum Attraction opened, but I am so excited to go again! There are great activity ideas for kids on the education page of their website. During our next trip, I plan to download the Scavenger Hunt Form to use as a fun teaching tool on our visit. It makes the trip more fun and memorable for our little divas when we do hands on activities with them. The attraction now also offers audio tours- both for adults and children. This is another great way to keep your kids involved!
Now the big decision of when to plan a trip is looming in our heads. All of the upcoming activities sound fun and exciting. However, I think I want to plan a trip on a weekend during the Christmas holiday season as the website boasts there will be "snow" at the Titanic!