Up, Up, and Away: The Wonders of Flight Experience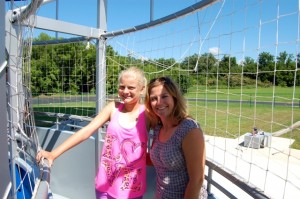 Another new attraction to Pigeon Forge we got to experience this summer was Wonders of Flight. It is a little hard to miss when it is in flight soaring above WonderWorks! With its 72 ft diameter, this big blue and green balloon exudes thrill and fun.
Rain and wind were being bullies most of the week so it took us a few visits to finally be able to take our ride 400 feet up in the air. The excitement and anticipation was hard to contain as we waited in line with lots of other families.
Our "driver" welcomed 14 of us aboard what he called a large outdoor elevator. The railings were high enough to ease my fear of heights. Jellybean and Peanut were actually a little apprehensive at first too. However, much to our surprise, it was very smooth sailing. There were a few minor jerks on the way up but overall very pleasant and easy going. The panoramic views of the area were amazing. Dad and the little divas moved around the gondola once we reached our stopping height.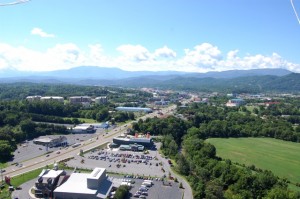 I was perfectly content to stay put and enjoy the view. We played a little game of seek and find trying to identify all of our favorite attractions from the air. We could actually get a picture of the full length of the Titanic attraction. The ride ended too quickly. None of us were ready to leave the views and our floating elevator!
Our "driver" told us that there is a possibility of them getting a 1200 ft cable in the future for the ride. That is 3x the current height! Can you imagine the view that will offer?