What's New In Pigeon Forge – Updates on Dollywood, LeConte Center & More
The start of the year 2013 ushers in a new era of adventures in Pigeon Forge, Tennessee!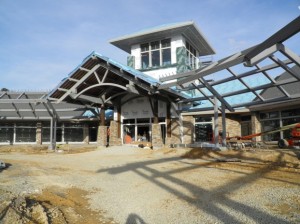 LeConte Center
The largest construction project in the whole city is scheduled to be completed in September of 2013 with the opening of the LeConte Center at Pigeon Forge.
The 232,000-square-foot facility will consist of a main exhibit hall, multi-purpose conference rooms, lobbies, food and beverage facilities, a concourse, pre-function space, an eight-bay loading dock, and 1,600 parking spaces.
RiverRush
The biggest news from Dollywood's Splash Country this year is the opening of Tennessee's first water coaster. RiverRush takes all the lovable and exiting aspects of a traditional roller coaster like high speeds, drops, and turns and combines them with water to create an unforgettable experience.
Boats holding up to four people first take a trip on a conveyor up an incline of 237 feet before plunging down the 1,175-foot-long ride. At the height of four stories those that choose to ride are sure to have an exciting trip down RiverRush! The ride is set to open in May.
Great Smoky Mountain Wheel
After a long development process The Island in Pigeon Forge, a retail-entertainment-dining-lodging complex, is finally set to open in 2013. Its focal point, the Great Smoky Mountain Wheel, is sure to be an attention grabber as it stands 200 feet in the air. The gigantic Ferris wheel will provide an incredibly unique view of both Pigeon Forge and the mountains. Its operation is scheduled to begin this spring.
Dollywood's Great American Summer
One of the nation's greatest parks is preparing to celebrate America this year with Dollywood's "Great American Summer". Starting June 22, and continuing for six weeks Dollywood will be open for more hours than ever before. Each day will start off at 10 a.m. with a live performance of the "Star Spangled Banner".
After a fun-filled day at Dollywood visitors will get to finish their trip by enjoying "Dolly's Nights of Many Colors". This attraction is a music-synchronized fireworks display which will occur nightly at 10 p.m.
Discover the Children of Titanic
The Year of Children at the Titanic Museum Attraction will consist of a theme of special exhibits and events honoring the 133 children who sailed on the ship in 1912.
John Joslyn, who led the first private exploration dive of the shipwrecked Titanic says, "The children's stories are no less important or dramatic than those of the ship's elite passengers."