Where to Catch the Easter Bunny in Pigeon Forge!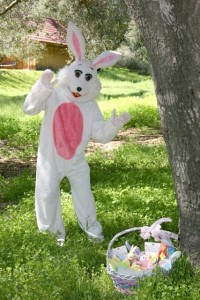 The Saturday (March 30) before Easter is full of events dedicated to that purpose. The first of these events runs from 9:30 am to 11:00 am over at the Old Mill Square. It's the 3rd Annual Brunch with the Easter Bunny! Participants will get a chance to enjoy some great food and meet the Easter bunny. Tickets for this event are $6.00 for children 12 and under and $13.00 for adults. There are limited seats available but you can reserve your seats now by calling (865) 406-6558.
Another cool Easter event will be happening at the Pigeon Forge Community Center. Starting at 10 am children ages 0-12 can come and join the Easter bunny on an Easter Egg Hunt for FREE. There are four age groups in the hunt to make it fun for everyone and the start times are staggered slightly for fairness. The age groups are: 3 and under, 4-6, 7-9 and 10-12. This has been a huge success in the past, which is no surprise considering how much kids love to hunt for Easter eggs. More information on this event can be found by inquiring at the Community Center Front Desk or by calling (865) 429-7373.
There's one more place where the Easter bunny can be found and it's not somewhere you would expect. It's a place usually associated with a different holiday but on that Saturday starting at 10 am and lasting until 5 pm the Easter bunny will be hanging out at the Incredible Christmas Place! Children and families can come by to take photographs with the Easter bunny and he'll even share some candy!
Easter, just like any other holiday in Pigeon Forge, is sure to be a fun and exciting event. Let your kids experience the thrill of hunting Easter eggs and meeting the Easter bunny by spending the weekend here with us!