Wildflower Report: Early Bloomers Welcome Springtime in the Smokies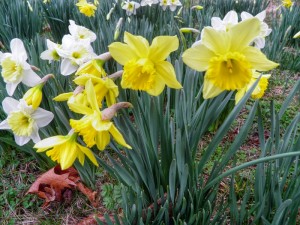 We're just over a week away from spring, and in the Smokies that means wildflowers! This is the first of several "wildflower reports" that we'll continue in the coming months. Some of the earliest wildflowers to bloom in Great Smoky Mountains National Park (GSMNP) don't even wait for spring. Ephemerals like daffodils, jonquils, chickweed and violets start blooming in late winter, sometimes as early as February.
Wild daffodils (Narcissus pseudo narcissus) and jonquils (Narcissus jonquilla) are some of the most common wildflowers seen now in the mountains. These flowers are closely related. Daffodils have white/pale yellowish petals and a yellow trumpet – jonquils have bright yellow petals and a matching yellow trumpet.
These flowers are unique because, once planted they tend to come back every year often in bigger numbers than before. They were very common around households in the pre-park days. If you come across a patch today, you're likely on an old home site.
 In addition to names like "daffodils" and "jonquils", these flowers were also simply referred to as "Easter flowers" by inhabitants of the Smokies, likely because of their blooming period peaking close to the date of the Christian holiday Easter.
One of the best places to see daffodils and jonquils is in Cades Cove. Shortly after you enter the "loop" in Cades Cove you'll pass the old site of one of the Civilian Conservation Corps (CCC) camps. When the camp was active in the 1930s jonquils were planted in a pattern that spelled out "CO 5427"- the official name of the CCC camp. Today these jonquils have multiplied and spread across the field, but if you look closely you can still see the name of the camp spelled out by the patches of bright yellow flowers.
The park also has some scenic trails where the early blooming wildflowers can be seen along the way to Cades Cove. The Schoolhouse Gap Trail is 2.2 miles from Laurel Creek Road to School House Gap on the way to Cades Cove and features the spring and summer bloomers. Little River Trail is another trail on the way to Cades Cove that features wildflowers blooming from mid-March through April about 2 miles in.