Wildflower Report: Porter's Creek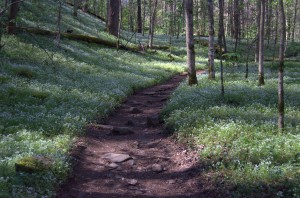 The next couple of weeks will be the absolute peak for most all wildflowers in the Smokies. Today we took a trip up to Porter's Creek Trail in the Greenbrier area of Great Smoky Mountains National Park, an area renowned for its wildflowers, and a number of species (trilliums, phacelia, squirrel corn, Dutchman's breeches,  etc.) were either at or nearing their peak blooming period.
Perhaps the most notable aspect of Porter's Creek is the area of forest floor that appears to be carpeted in white fringed phacelia. Just after you cross the large foot-log spanning Porter's Creek you'll see blankets of the small white flower. The terrain is covered with it all the way up to Walking Fern Falls.
It's hard to say exactly why the wildflowers bloom so vibrantly in this specific area. Elevation and conditions of the terrain certainly play into effect. Whatever the cause, it's unquestionable that this trail is one of the most beautiful places on the planet for these few weeks in April.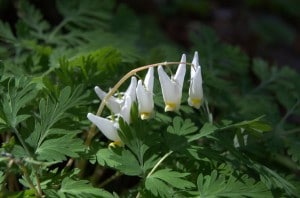 Other flowers seen are hepatica, lady slippers, wild sedge, bishop's cap, ginger root, may apples, wild geranium, crested dwarf irises, violets and wood lilies- just to name a few. Porter's Creek is a relatively easy hike averaging four miles round trip (if you stop at the falls). The first mile is a wide gravel road and the elevation gain is pretty minimal, making the trail suitable for almost any level of hiker.
Stay up to date on the conditions of wildflowers in the Smokies by checking our weekly blogs throughout the months of April and May. If you haven't made plans to visit yet then you better do it quickly!