WonderWorks' New "Wonders of Flight" Addition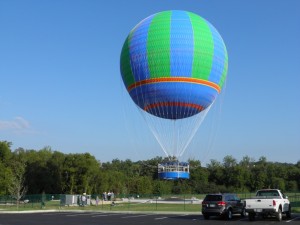 Visitors to Pigeon Forge may notice the new giant balloon floating high above the famous WonderWorks attraction. The balloon is a new addition for WonderWorks, which is opening to the public Friday, September 21, and will allow participants to view the Great Smoky Mountains from 400 feet up in the air!
The "Wonders of Flight" addition is on a landing platform just behind the WonderWorks building and consists of a gondola which can hold up to 30 people. After boarding the gondola, guests will be lifted up by the massive 72-foot diameter balloon which is tethered to the platform by a cable.
The whole experience should last around 10 minutes with rides daily in the morning and evening hours. The balloon is permanently inflated with helium and the cable is controlled by a hydro-electric winch so the entire addition is noiseless and environmentally friendly.
Opening rates for the "Wonders of Flight" will be $15.99 for adults and $9.99 for children 12-under with children shorter than 36-inches admitted for free.