The below information applies to a 12-month contract that will occur during the window of May 1, 2020 – April 30, 2021.
Level 1 & 2 packages will be secured on first-come, first serve basis.
Start Date: Please allow 10 business days after submission of materials for production time.  Approvals or feedback on advertisement proofs must be received within 72 hours after notification, or it will be assumed that ad is approved for online publication.
Payment: First payment is due July 1, 2020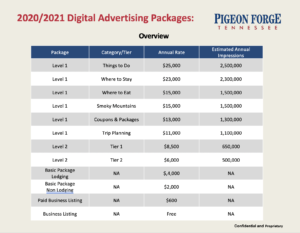 Mail checks to:
PIGEON FORGE DEPT OF TOURISM
Attn: Jenean Terry
P.O. Box 1390;
Pigeon Forge, TN 37863
Make checks payable to:
City of Pigeon Forge
** If payment is not received by July 1, contract will be voided