30th Annual Dolly Homecoming Parade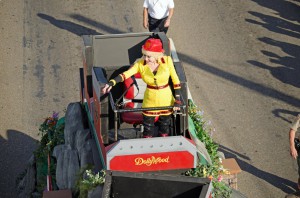 Pigeon Forge's most attended parade will celebrate a mile-stone this year. On Friday, May 1st, the 30th Annual Dolly's Homecoming Parade will be rolling through town. The parade will begin at 6:00 pm with Dolly Parton herself as the Grand Marshall. As tradition will have it, she will be preceded by the marching band from her alma mater, Sevier County High School. It will start at traffic light #6 on the Parkway and end at traffic light #3. The parade is expected to last approximately two hours and will include more than 125 participants and over 50 different festive floats.
This year's parade will display a variety of participants from majorettes to military veterans, and everything in between. Live performers from the local theater shows will have you dancing, singing and laughing as they make their way down the parkway. Other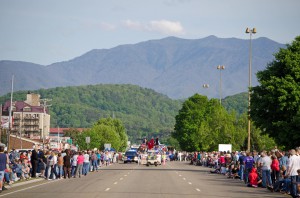 musical talents include the Pigeon Forge High School Marching Band, and the Page County High School and Middle School Marching Band from Shenandoah, Virginia.
Dolly's Homecoming Parade is a great opportunity to pay honor to our country's military veterans. Look for them walking alongside two different submarine replicas stretching 65 feet long!
Another super-sized display will be the 30-foot long motorized Food City Big Buggy with riders in tow.
And we can't forget about our furry and feathery friends that will be making appearances. Parrot Mountain and Gardens will brighten the parkway with their display of tropical birds and Garden of Eden float. Even rarer than tropical birds in the Smoky Mountains is Little Joe, the World's smallest horse. The Living Treasure's Little Joe is back for another year to join Dolly and all of the other parade participants in the fun-filled march through Pigeon Forge.
Make plans now to join us and thousands of other spectators in welcoming Dolly home, and share this exciting display of creativity and fun with your whole family!