Dollywood's Barbeque and Bluegrass Festival
Don't Miss It!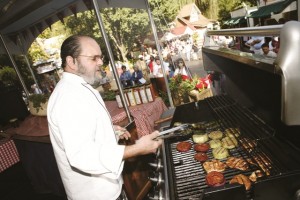 If you are a bluegrass music lover, then you are not going to want to miss the Dollywood Barbeque and Bluegrass Festival running from May 26 – June 10. Over the 16 day span, there will be 250 FREE concerts! Just pay your park admission, bring your listening ears, and be ready to be entertained! A schedule of performers can be found on the Dollywood website. The list includes top names such as Ricky Skaggs & Kentucky Thunder and Riders in the Sky, along with other new and upcoming performers. Many sides of bluegrass music are sure to be heard. There is just something about the sound of bluegrass tunes and the banjo that makes you wanna tap your toes and dance…at least that is the case for my little divas!
Guests will also get to taste some of the country's tastiest barbeque over in Market Square. Visiting chefs will be at Dollywood preparing some mouth watering recipes along with offering cooking demonstrations. You never know what you might learn! There will also be a Sauce Tastin' station where guests can sample a variety of sauces. And…I have read that apple pie is what's for dessert!
As with any event at Dollywood…a fun time is sure to be had. We have never been disappointed on any of our visits. Quality entertainment, food, and rides will fill your day. Don't forget if you arrive after 3 pm…return the next day for free with the purchase of single day park admission!