Indoor Racing at Blake Jones Racing Center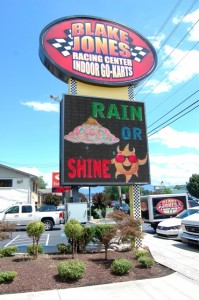 Rain taunted our outdoor activities for the majority of our summer trip; however, we didn't let that stop us from finding fun activities. One afternoon, Dad suggested a little friendly competition on go karts, so we decided to try out the Blake Jones Racing Center.
The girls were super excited as we walked in and saw how big the indoor track was as well as the bumper cars and figure 8 slick track upstairs. There was plenty to do while we let the rain outside pass by.
I went over and bought some tickets while everyone got ready to race. Peanut was too young to drive by herself so she had to hop in a double car with dad but Jellybean got to be her own driver. Once everyone was in and buckled up, the race was on. Dad is very competitive, so of course, he and Peanut jetted off while everyone else had fun trying to catch up with them.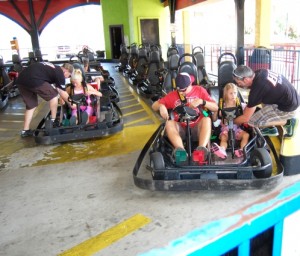 I think Jellybean scared herself a little when she got to going fast but she was a good driver and made her way around the track and turns just fine. Dad and Peanut were the winners, but everyone had such a good time that a second round was necessary. So it was more racing and more fun times. Afterwards, we headed upstairs to check out the bumper cars and the slick track but, the little divas decided they would rather take another turn on the go kart track! So back downstairs we went for another round of racing. Dad and Peanut were still the winners but smiles covered all of their faces.
Blake Jones Racing Center got two thumbs up from our family, especially as a great rainy day activity!