King Kong and the Men in Black in Pigeon Forge!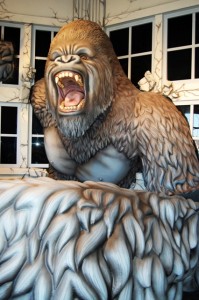 The Hollywood Wax Museum was our first stop on our last visit to Pigeon Forge. It opened earlier in the summer and we had heard nothing but good reviews. I don't know who was more excited…mom or the little divas! I got the camera all charged up and was ready because I knew that there would be lots of photo ops involved.
The outside of the building is as cool as the inside, from their "Mt. Rushmore" featuring John Wayne, Elvis Presley, Marilyn Monroe, and Charlie Chaplin to the giant Hollywood sign and of course, King Kong towering over the city. We walked around checking out everything and taking lots of pictures before heading in to get our tickets.  Once inside they captured a family shot of us in King Kong's hand then we were off to explore. Neither Jellybean nor Peanut was too excited to stop and read the fun facts about the actors and actresses. They just wanted to touch them and sit on the cool props.
I snapped lots of pictures as they went back and forth.  Jellybean was amazed at how real and life like some of the figures looked. Of course, her favorites were the Pop Divas…that girl loves some good music! Peanut kept trying to pose like the figures when I took her picture. My favorite is the picture I got of her posing with the guys from Men in Black. Dad patiently followed us around letting us girls take as much time as we wanted. He kept chuckling at how goofy we got with the hot hunks, like Bradley Cooper and Matthew McConaughey!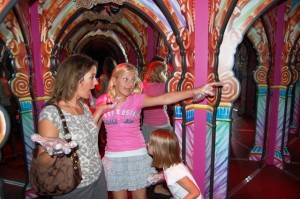 The fun didn't end with the wax museum. We bought the combo tickets so we got to check out Hannah's Maze of Mirrors and Castle of Chaos too. The little divas were a little reluctant to try the mirror maze because of fear of getting lost like we did on our last family mirror maze adventure. This maze, however, involved hallways, bridges, and a crazy tunnel, not just mirrors so they relaxed more once we got going. Mom led the way and we took on the adventure of saving Hannah. As we made our way to the end, Jellybean said "that wasn't so bad!"
On to Castle of Chaos…I think Dad was the most excited about trying it. It is a video game, ride, and 3D film all in one! We all put on our 3D glasses and took our seats. Peanut got a little anxious as the doors closed and it got a little dark. She was fine though, once it started and she got to shoot her gun at everything. The goal is the rack up the highest score while shooting at the targets on the screen. We heard and felt some crazy things and got spun around several times.  At the end, the scores of all the players were listed and Dad took 1st place, of course. We all had fun though and wanted to go a second time!
We had a great day at the Hollywood Wax Entertainment Center. Every time we would see King Kong as we were driving along the Parkway during the week, the little divas would come up with a new fun memory to share. I love vacation times with my family!