Live From Wilderness Wildlife Week!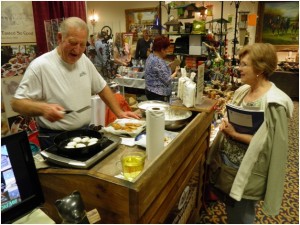 Wilderness Wildlife Week™ is now in full swing and attendance is as big as ever. Hundreds gathered today despite the bad weather to come in and enjoy the many exhibits and classes offered.
Attendees David and Lois Donaldson of Michigan expressed their enjoyment of the programs. "We absolutely love it. This is such a fun way to learn about the mountains and their history."
Renowned story-teller Doug Elliot has given talks and presentations at Wilderness Wildlife Week™ for years now and has become a crowd favorite. The Donaldson's particularly enjoy his presentation on the groundhog but don't necessarily agree with Elliot's taste for them.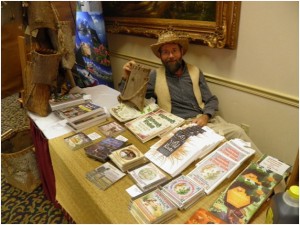 "There's no way in the world I would ever eat a groundhog," David says. "I wouldn't do half the things that crazy man's done, but I love to listen to him."
Music has become one of the most popular aspects of Wilderness Wildlife Week™. All sorts of traditional styles of music are on display including some that are interactive.
Phyllis Scott of Virginia says she first learned to play the old-time mountain dulcimer here during a class in previous years. "I had never even seen one before and it looked so fun I had to try it. I eventually bought one of my own and although I'm not much better than when I started I still love to practice."
Classes like the dulcimer instruction class occur throughout the week but for participants that are less adventurous and would rather listen than play there are numerous programs featuring expert old-time musicians.
Steady rain hasn't slowed down any of the activities at Wilderness Wildlife Week™ thus far. Jim DeRuyter of Chattanooga, TN, says he plans to go on the guided hike tomorrow despite the forecast of continued showers. The hike in Great Smoky Mountains National Park will be guided by historian and author Glen Cardwell who was born in the Greenbrier area of the park.
"He says he's still going to go so I figure if he can hike in the rain I can too," says DeRuyter speaking of Cardwell who is now in his 80s. "I look forward to his stories and memories when we walk through it that's for sure."
The various programs and exhibits of Wilderness Wildlife Week™ will continue daily from 8 a.m. to around 8:30 p.m. until Saturday, January 19.