New Attractions in Pigeon Forge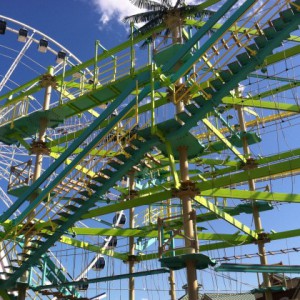 In the Land of More, it seems that there is always something new to see and experience, and this summer has been no exception!
If you've been waiting to stay in the highly anticipated Dollywood's DreamMore Resort, you can now rest easy! Dollywood's DreamMore Resort has been a dream in the making for more than 30 years, and it is now open and welcoming guests. It is just a hop, skip, and a jump away from Dollywood and Dollywood's Splash Country, but there is plenty to keep you entertained at the resort as well. At DreamMore, you'll have a hard time choosing where to lounge with two pools, two waterfalls, a lazy stream, and even an interactive family splash pad on site. At the end of the day, relax in one of the 300 rooms at DreamMore. With guest rooms that can sleep up to 8 people, it is the perfect place for couples and families alike. Some rooms even include bunk beds!
After a good night's rest, you'll be ready for some more action and family fun at Bear Country Fun Park, located on the Parkway at traffic light #10. Fasten your seatbelt for the "Big Bear" go kart track, or take a spin with your little one in the jump around cars. After heating up the track, cool your jets in a Splash and Spin Bumper Boat. You can even take the competition inside to the arcade.
Racing go karts is always a friendly way to compete, but what about a race against time? Put your problem-solving skills to the test at one of Pigeon Forge's newest attractions, The Escape Game at The Island. Choose from different scenarios and work together as a team to find clues and solve puzzles in order to escape from a locked room. But you must hurry! You only have 60 minutes to put the information together to unlock the door, and if you have the skills you'll be able to say "I escaped."
While you're at the Island, be sure to check out The Island Ropes Course. The Sky Trail Explorer course is three-stories with thirty different elements and two zip lines. If you're brave enough, you can exit the ropes course by taking the jump on a free fall simulator from the top level back to sturdy ground! For those who are not so fond of heights, you can always take the steps back down to the bottom when you are ready to exit. The second course, called Sky Tykes, is designed for smaller adventurers that are 48" and under. Parents are able to walk alongside their harnessed child while they complete the elements on this course.
Get in some target practice at the 7-D Dark Ride Adventure at the Island without leaving your seat. This attraction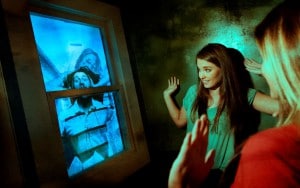 is a motion seat ride and interactive shooting game all in one! If that doesn't give you an adrenaline rush, Outbreak – Dread the Undead certainly will. You will navigate through rooms filled with both animatronic zombies and live actors as you experience the feeling of being in a scientific lab where an experiment went horribly wrong.
Take a step back in history at Iron Mountain Metal Craft in the Old Mill area. Here you can watch live demonstrations of blacksmiths forging metal for knives and other metal pieces. They also offer lessons for forging your very own knife. Now that's a souvenir with a great story!