Seeing the Lost Titanic Violin & 133 Children's Stories Exhibits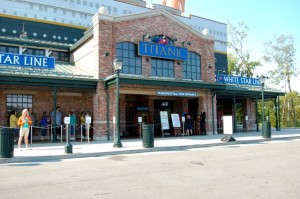 The Titanic Museum Attraction in Pigeon Forge is always changing things up by adding new exhibits and hosting fun events. I love sharing this great piece of history with my little divas and they never seem to groan when we say, let's see what's new this trip at Titanic! Their audio tour makes the visits even more fun…it is like having your own personal guided tour. We also love when the crew members share extra details with us and help us learn more about the person on our boarding passes.
New for 2013 was the 133 Children's Stories exhibit. It showcases the children that were aboard the Titanic's maiden voyage. Naturally this exhibit caught the attention of Jellybean and Peanut. They had fun looking at all of the pictures and seeing how differently children dressed back then. It put things into perspective for all of us. As a mother it was very sad for me to even think about how scary and horrifying the sinking must have been for those children.
Extra special on our visit was a book signing by child author, Cady Crosby. This young teenager wrote a book about Father Thomas Byles. He was a Roman Catholic priest who was aboard the Titanic heading to New York City to officiate his brother's wedding. Coincidently, he was the person that dad received on his boarding pass for the day. We had fun visiting with her and learning about her as well as her interest in the Titanic. We bought her book, A Titanic Hero: Thomas Byles and had her autograph it for us.
We were also lucky enough to see The Lost Violin exhibit. This treasure was only in Pigeon Forge for about 2 months this summer and it was the first and only time it had been displayed in the United States. The owner of this violin was Wallace Hartley who was the orchestra leader for the Titanic.  He and his band mates were said to have been playing their instruments up until the time that the ship sank. None of them survived but this famous violin did!