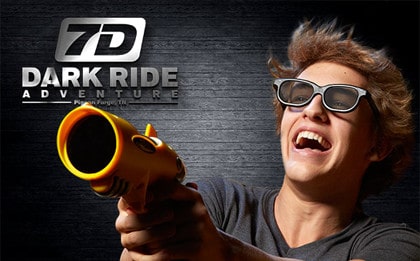 7D Dark Ride Adventure located in Pigeon Forge, Tennessee is the FIRST 7D experience. Using award-winning technology, this 12-seat theater uses full motion seats with an interactive shooting gallery. With 3 adventures, each includes a 3D movie with lights, sound, wind and an interactive game play. 7D Dark Ride Adventure is great for any age guest and different group sizes or individuals. Come compete with your friends and family to see who can score the highest!
7D Dark Ride offers the latest, award-winning technology in Pigeon Forge  This interactive shoot gallery attraction has the thrill of a roller coaster but is fun for families of all ages!
Come experience the 3 exciting adventures, showing off your skills and competing for high scores!