The Buttonwillow Civil War Theater, located in Pigeon Forge, Tennessee offers visitors a unique and moving Civil War experience. Our 90-minute live stage show features the original drama, "Granddaddy's Watch."
Our story involves a brother and sister from East Tennessee who are meeting on a battlefield in 1864. Their encounter is a touching and historically accurate account of both sides in this great American struggle. Laughter turns to tears, as the real story of what happened during the years leading up to The War Between the States.
Our program is politically incorrect, but dead-on accurate. We present a more realistic account of the events that sparked this war.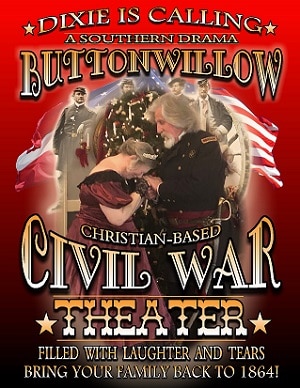 Great for kids from 10 thru 110, it is 100% educational and will leave you looking for more.
Shows Daily at 7 PM
Check for added show times.
Total Units/Capacity: 542
Minimum # for Group Rate: 20
Complimentary Admission: One comp per 20 paid , limit of two comps per visit