PIGEON FORGE FIRE DEPARTMENT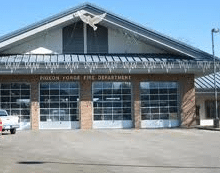 It is the mission of the City of Pigeon Forge Fire Department to protect life and property, promote public safety, safeguard the well-being of its employees and foster economic growth through leadership, management and action as an all-risks and life-saving fire department.
Led by Chief Tony L. Watson, the City of Pigeon Forge department is a combination of 38 full-time career and 12 volunteer firefighters. These hard-working individuals provide fire suppression, vehicle extrication, basic water rescue, hazardous materials response, wildland/urban interface firefighting, elevator rescue, and Advanced Life Support Emergency Medical Services.