An Evening with Randy Travis at Country Tonite Theatre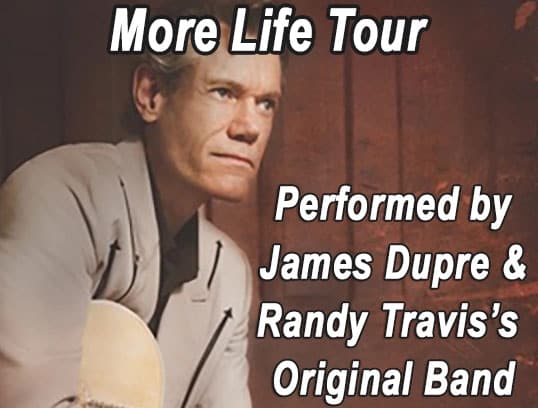 More Life Tour – performed by James Dupre, Randy Travis & special guest Lee Newton
Friday, July 21, 2023 at 8:00 PM
$54.00 + Tax
"During a 25-year recording career, Travis became known as the epitome of what country music should sound like."
His career was halted in its tracks when Randy suffered a massive stroke in 2013. His miraculous return was saluted with a tearful standing ovation when Garth Brooks inducted him into the Country Music Hall of Fame in 2016. In 2019, Randy and writer Ken Abraham documented the dramatic highs and lows of his life in an autobiography titled Forever and Ever, Amen: A Memoir of Music, Faith and Braving the Storms of Life.
Storms of Life is the record that originally made Randy Travis a pivotal figure in the history of country music. Its reissue emphasizes what a landmark it was/is, and its previously unheard performances underscore this artist's stature as one of the greatest vocalists in the annals of country music. The lost-love ballad "The Wall" sounds like an overlooked country classic. Stuttering guitar and scampering fiddle accompany Randy's toe-tapping delivery of "Ain't No Use." His performance on the honky-tonk heartache waltz "Carryin' Fire" is a work of sheer brilliance.
Indeed, everything about Storms of Life mark Randy Travis as a monumental, masterful stylist for the ages. Both the artist and this recording are American music treasures.
Featuring – James Dupre'
James Dupré was named one of Rolling Stone's "10 New Country Artists You Need To Know," Dupré has over 10 million views to his credit on YouTube, with three charted singles on the Billboard Indicator chart, including "Another Love Song," "Hurt Good," and "Stoned to Death." His pitch-perfect, baritone voice and high engagement through social media platforms like YouTube led to an invitation to perform on Ellen.
Shortly after, he released his debut album It's All Happening in 2010, which charted on Billboard. After signing a record deal with Warner Music Nashville in 2011, Dupré began performing and touring full-time through 2014. Shortly thereafter Dupré appeared on NBC's "The Voice," Season 9, where a four-chair turn ultimately landed him on Adam Levine's team. The father of four, with another one on the way, made his acting debut in the film, "The Price," playing the son of a country singer, portrayed by Randy Travis.
Concert tickets are on sale now! Call (865) 453-2003 or book online.