PIGEON FORGE MASS TRANSIT TROLLEYS
Save time and money during your stay when you catch a ride on one of our Pigeon Forge trolleys!
Once you get to Pigeon Forge, you can relax and leave the driving to us. Pigeon Forge Mass Transit trolleys travel to more than 200 official stops in Pigeon Forge, as well as select locations in Gatlinburg and Sevierville. Many of the area's local attractions, restaurants and even several lodging options are located along one of the Pigeon Forge's trolley routes, making it easy for travelers to quickly get to the locations they want to visit.
All Pigeon Forge trolleys and trams are lift-equipped for wheelchairs and/or other mobility aids and may be accessed at any designated trolley stop.
Pigeon Forge Trolley Mobile App
It's now even easier to get to your favorite places to go in Pigeon Forge! You can download the Pigeon Forge Trolley App and get instant access to trolley arrival times, so you can better plan your daily agenda. Visitors can also use the app to buy and use passes to ride the trolley. It's all the tools you need to enjoy your trolley experience!
Search Pigeon Forge Mass Transit in your app store, or click the links below to download. Features will continue to be upgraded on the app.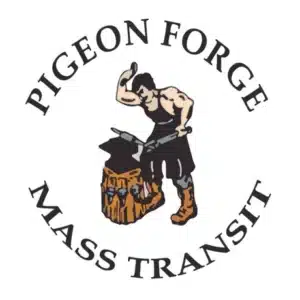 TROLLEY ROUTES
Available routes:
North Parkway
South Parkway
Dollywood
Dollywood's Splash Country
Gatlinburg Welcome Center
Wears Valley Road
All routes start and end at the Mass Transit Trolley Station, located next to Patriot Park in The Old Mill District on Old Mill Drive. Turn at traffic light #7 and look for the parking lot with trolleys.
Get more information on the Pigeon Forge trolley's routes and schedules.
TROLLEY FARES
*All-Day Pass………………………………………………………..$3.00
North Parkway ……………………………………………………$1.00
South Parkway……………………………………………………..$1.00
Gatlinburg Welcome Center………………………………$1.00
Dollywood ……………………………………………………………$2.50
Dollywood's Splash Country ……………………………..$2.50
Wears Valley………………………………………………………….$1.00
Children (3 years and younger) ………………………….FREE
*All-Day Passes may only be purchased at the Pigeon Forge Trolley Office and are valid for use on the Pigeon Forge Mass Transit trolleys only and are not valid on trolleys in Gatlinburg.
Please note: Trolley drivers will accept exact fare only and cannot make change. Fares apply each time riders board the trolley.
TROLLEY PARKING
A parking lot is available at the Trolley station. Additional parking is available at the Municipal Parking Lot located on Teaster Lane.
Parking is free and transportation to Patriot Park is also free.
Limited free parking is available at the new Mass Transit Trolley station at Patriot Park in the Old Mill District (236 Old Mill Ave.). Additional free parking is available at the River Lot (2936 Teaster Lane) and the Mountain Lot (2989 Teaster Lane). Both lots have trolley stops adjacent to the lots. Please note, the closest trolley stop to the Mountain Lot is at the south end of the LeConte Center accessible by pedestrian bridge.
Transportation fares apply for passengers to and from various route stops.
TROLLEY OPERATING HOURS
Early March through December: 8:00am – Midnight
Early January – February: 10am – 10pm
Trolleys do not operate on Thanksgiving Day, Christmas Eve or Christmas Day.
(Hours subject to change)
TROLLEY CONTACT INFORMATION
Phone: (865) 453-6444
Visit: http://www.pigeonforgetrolley.org