Autumn Colors Paint the Smokies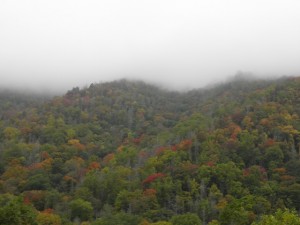 The Smoky Mountains are world renowned for their year-round beauty but the autumn months are particularly notable for the spectacular scenery they provide. Coloration in the leaves begins to appear in September and by the middle of October the mountains are fiery in appearance with vibrant shades of red, orange, and yellow.
Today I took a trip up into the Great Smoky Mountains National Park to take a closer look at these incredible displays and was pleased to see that the leaves have almost reached their full potential in some places.
The winding road up US Highway 441 provides views that are at times breathtaking. Thousands of beeches, maples, and birches were plentiful with myriads of fall colors.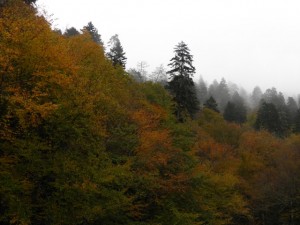 I stopped at Sugarlands Visitor Center to get information on the leaves and the best places to see them.
I was told that at elevations above 4,000 feet the leaves are supposed to look the best between October 1st and the 15th. Leaves at lower elevations will begin to reach their peak later in the month and into November.
I also learned that the coloration of leaves directly relates to the amount of rain received. Too much or too little precipitation can make a huge difference in the color and shades of the leaves.
Some of the most popular viewing routes for fall colors are Highway 441 on Newfound Gap (for higher elevations), Little River Road, Laurel Creek Road, and Cades Cove.