Best Places to Ride Go-Karts in Pigeon Forge
There are so many things to see and do in Pigeon Forge, with a variety of ways to entertain yourself and the whole family. One of the best ways to get a rush of adrenaline is through go-karting. It is a great way to experience a thrilling ride while also having some friendly racing competition. There are a variety of unique go-kart tracks in Pigeon Forge, so you're sure to find one that suits your taste. Check out some of the best go-kart tracks in Pigeon Forge to add to your to-do list!
Blake Jones Racing Center
The Blake Jones Racing Center offers fast karts whether it rains or shines. They have the Indoor Oval Slick Track and the outdoor Figure 8 Track. Both tracks offer riders a realistic racing experience. Blake Jones offers two types of carts: the single cart and the double cart. The double cart can carry up to 2 people and will double the fun! Both types of carts are eco-friendly, with no fumes or odors. This location also offers bumper cars as an option.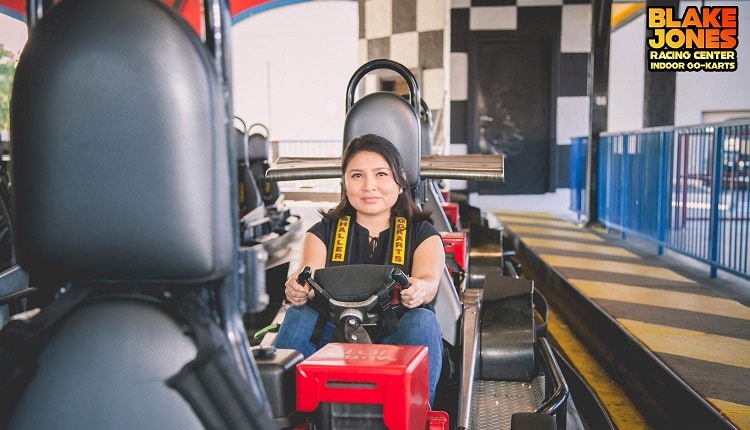 The Track & Super Track
The Track & Super Track can be enjoyed by the whole family. The Track Family Fun Parks offer an array of things to do from splashing Blaster Boats to arcade games and prizes. Their signature attraction, the Wild Woody, is especially popular! The Wild Woody is a multi-level go-kart track, where the drivers race as high as three-and-a-half stories.
There are three other tracks that the kids will love: The Family Track, Kiddie Karts, and the Rookie Track. Enjoy some friendly competition and set up challenges for yourself and your family!
The rides vary depending on the park that you visit as there are two locations, one near The Island and the other near Dolly Parton's Stampede.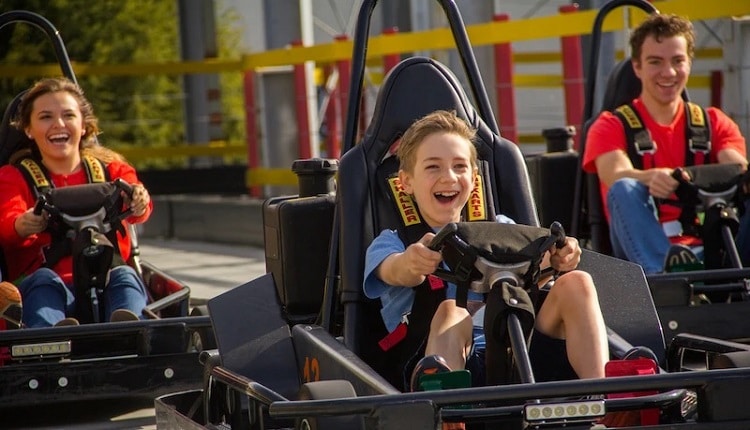 Adventure Raceway
The Adventure Raceway in Pigeon Forge has a ton of fun things to experience. There are Water Blaster bumper boats and excellent go-kart tracks for those who want a thrill. One track is wooden, three levels high and called "The Hump." Once you reach the top, you spiral back down quickly and have so much fun, you will be ready to do it all over again! Adventure Raceway is open year-round, however, in the off season the hours change, so make sure to check their schedule ahead of your visit.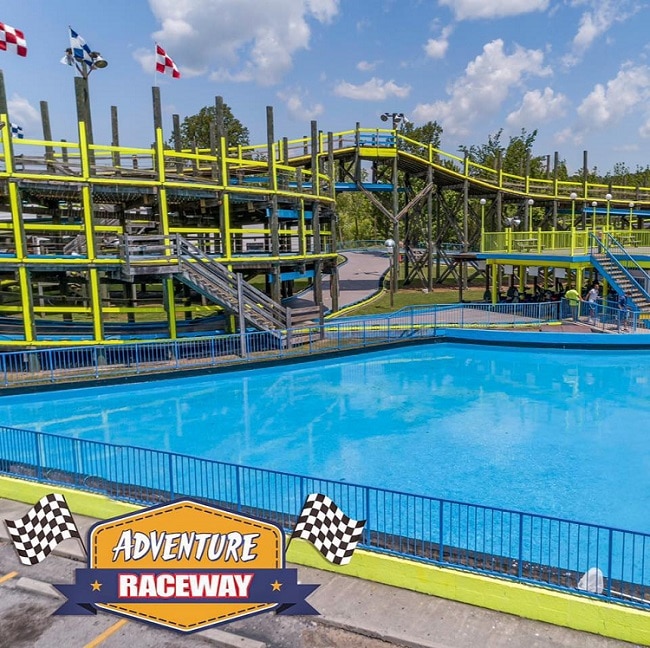 Lazerport Fun Center
Lazerport Fun Center is a huge arena filled with excitement for the whole family. The go-kart track towers over the arena, standing at 50 feet tall! It is one of the tallest in Pigeon Forge. This roller-coaster style go-kart track drops, twists and turns throughout spirals on the track, before plunging straight down a 40-foot hill. This is one ride you won't want to miss!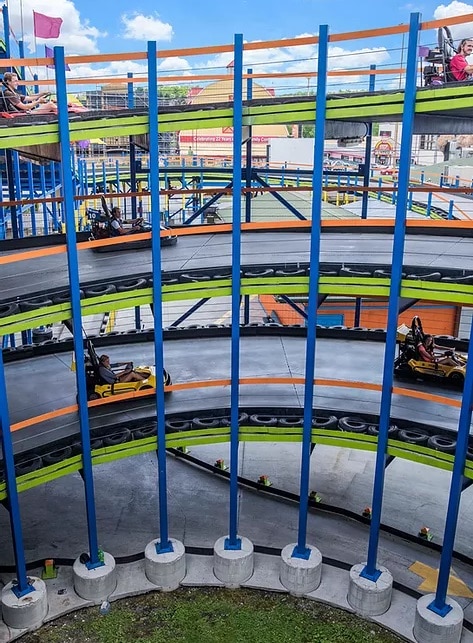 Xtreme Racing Center
Xtreme Racing Center is known for having some of the fastest go-karts in Pigeon Forge, thanks to the "Sodi" European Styled Racing Karts. Look no further when it comes to your need for speed! There are three tracks and each one includes thrilling turns and curves that will keep you on your toes. After the race, you receive a track report, complete with recorded laps and time. This really adds to the fun and the competitiveness.
For the Sodi karts, the drivers must be no younger than 11 years old, however the Shaller karts offer the same thrilling rides but are designed more for the younger children.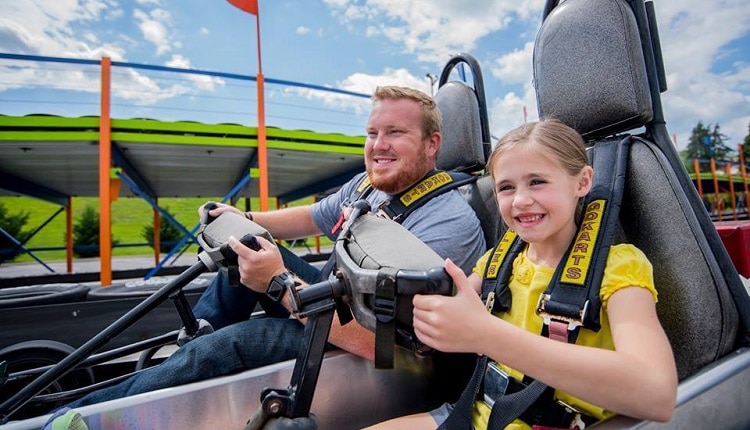 Rockin' Raceway
At Rockin' Raceway there's plenty of excitement! With one of the best arcades in the Smokies, there is no way you can get bored. After you enjoy the arcade filled with over 150 games, step outside and enjoy the fast tracks! You'll want to rev up your engines with these go-karts as they take you through all sorts of curves and turns in this fun-filled attraction.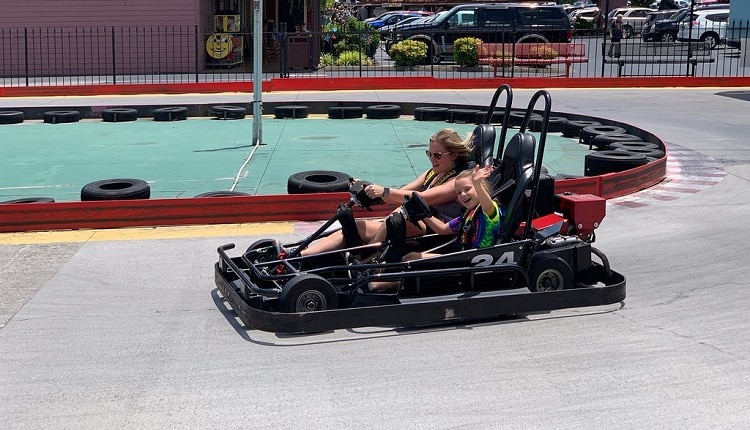 Speedzone Fun Park
Speedzone Fun Park offers 4 unique and custom-built kart tracks all in one place. Each track offers a thrilling ride with challenging corners. The Slick Track is perfect for testing speed, while the Coaster Track is great for racing up and down, and the Tennessee Twister is ideal for testing out tight turns. There is even a track specifically for the kids — the Kids Track. Whatever your age or skill level with go-karting, Speedzone Fun Park has something for you!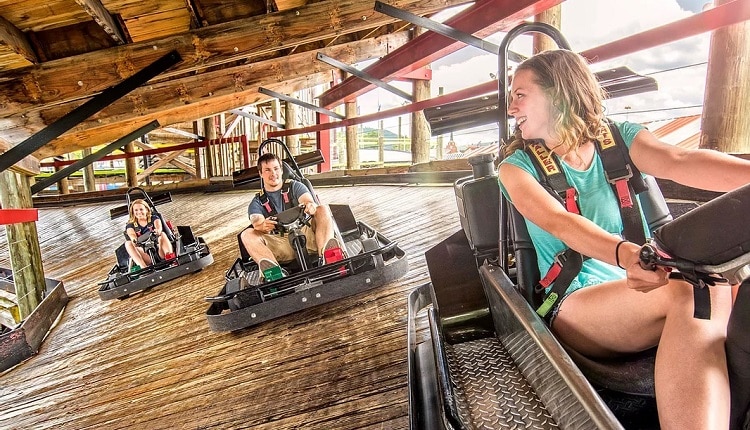 Fast Tracks
Fast Tracks is an amusement park that will give you a wild ride! They offer a three-story elevated racetrack, some CAN-AM racing, and so much more. Enjoy three different go-kart tracks: Elevated Track, Pro Track, and Junior Track. The Elevated Track will bring riders to lightning speed, while their other two tracks can help you leave your competitors in the dirt.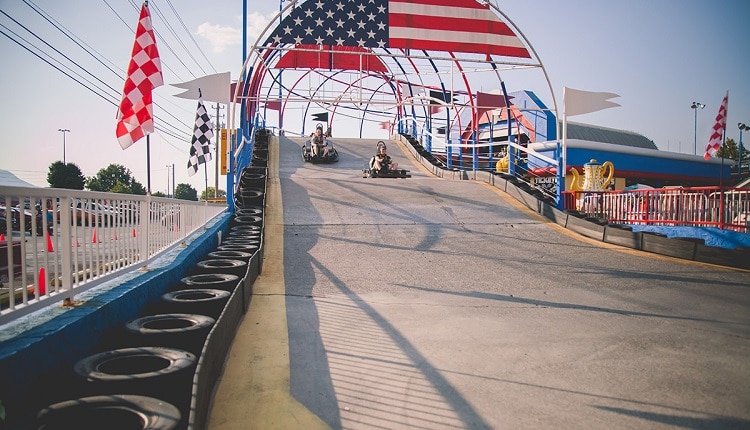 So, there you have it! There are a variety of go-kart tracks in Pigeon Forge to suit everyone's taste, from indoor tracks to roller-coaster inspired tracks. Pigeon Forge has so many fun-filled family-friendly activities and go-karting is just the start of everything you can do on the Pigeon Forge Parkway. So, what are you waiting for? Round up the family and explore all that Pigeon Forge has to offer! 
Note: Regarding the Pigeon Forge attractions & businesses mentioned in this blog, please check their respective websites for an update on their COVID-19 operational updates.
Author Bio:
Amber Dickison is a travel blogger based in Kentucky. When she isn't writing for her blog, she can be found focusing on her health journey or traveling the world.