Bullfish Grill = Really Good!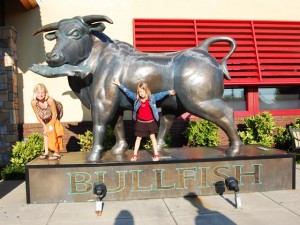 As I have mentioned before, we definitely eat well during our visits to Pigeon Forge.  Good Southern food is hard for this family to pass up. We usually leave after a week of vacation feeling several pounds heavier but full of happiness!
Bullfish Grill has always intrigued the little divas. I think it is the name as well the big bull statue with a fish in its mouth that stands outside the restaurant. When we pass by, one of them usually asks if we can eat there. Their specialty is aged Angus beef and seafood which covers the likes of all of us except Peanut. She is a mac and cheese and chicken nugget kinda girl no matter where we go.
This was our first trip to Bullfish Grill for dinner. We had only eaten lunch there in the past. We didn't have to wait to be seated and were quickly greeted by a server. Fried green tomatoes are a "must have" appetizer for us so we ordered those to munch on while we looked over the menu. The ones at Bullfish Grill have their own unique twist and are quite tasty. Even Peanut partook in them. There are so many good items to choose from, but our server answered all of our questions and helped us pick items that suited each of our tastes. I chose the Parmesan Crusted Tilapia and dad went with a Black Angus Cheeseburger. Jellybean tried her luck at the kid's popcorn shrimp and Peanut went for her usual…chicken nuggets. None of us left hungry or disappointed in our meal.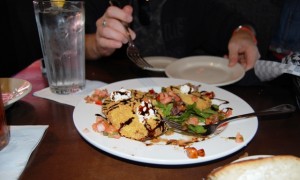 The atmosphere is definitely more grown up and upscale. It is was perfect for us this particular day, as dad and I were wanting to spend an hour or two not being in kid mode after we had entertained the girls and their requests all day long. Thanks Bullfish Grill, we'll be back!