Feudin' Feastin' Family Fun at Hatfield & McCoy Dinner Feud™
From an outrageous battle of musical performances to dancing and mountain clogging to unbelievable stunts and more, enjoy feudin', feastin' family fun at the Hatfield & McCoy Dinner Feud show.
It's no secret the Hatfields and the McCoys have never been able to settle their ridiculous family feud. Join a side of the family and watch them take their fightin' skills to the stage with hilarious hillbilly horseplay.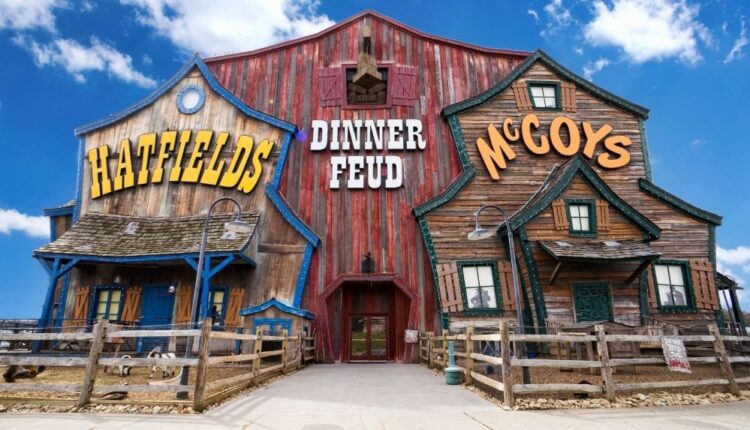 The fun starts before you even get inside
Arrive early to explore the outside grounds, which have the feel of an over-the-top, comedic mountain people's farm. There is laundry swaying on the clothesline, an outdoor shower and outhouse, and of course, farm animals. You'll find plenty of hilarious photo ops that the whole family will enjoy!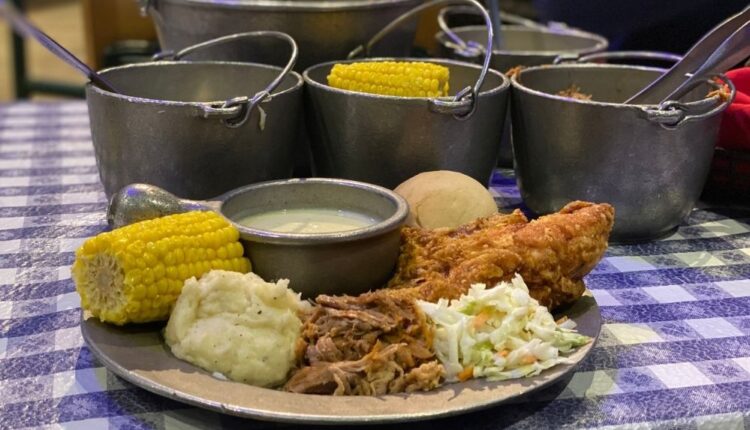 Fill up on Granny's country cookin'
Upon entering, you are designated as either a Hatfield or a McCoy, and the fun awaits as you prepare to watch these families settle their differences, mountain-style. You'll want to come hungry as a mountain feast is served before the show starts. And it's all you can eat! With fried chicken and pulled pork, smashed taters, creamy vegetable soup and more, you may just have to loosen up your belt! Whether you're a Hatfield or a McCoy, this show has all the fun, food and family entertainment that you're looking for.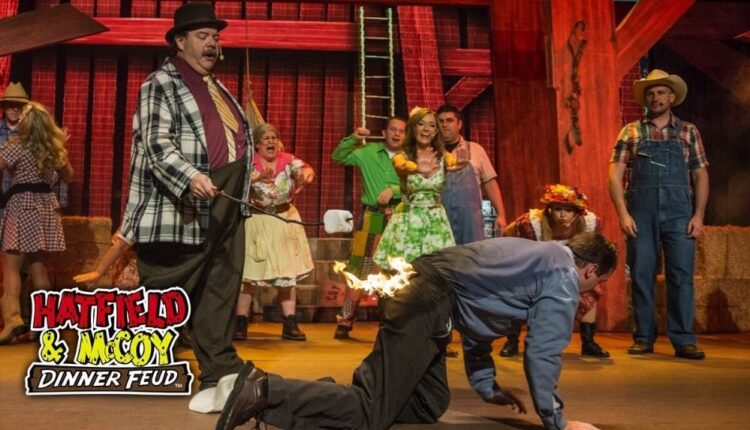 Get caught up in the longest running family feud in history
After chowing down on the yummy food, it's time for the show to begin. You'll find yourself completely caught up in the singing and dancing, high-flying stunts and hilariously funny comedic sketches between these two infamous feuding families.
The show is full of action, excitement, and plenty of comedy. Watch as the mayor stirs things up between the two families. Even the town sheriff gets involved in the shenanigans. The laughs quickly unfold with competitions between the Hatfield's with their clogging and the McCoy's playing a variety of instruments.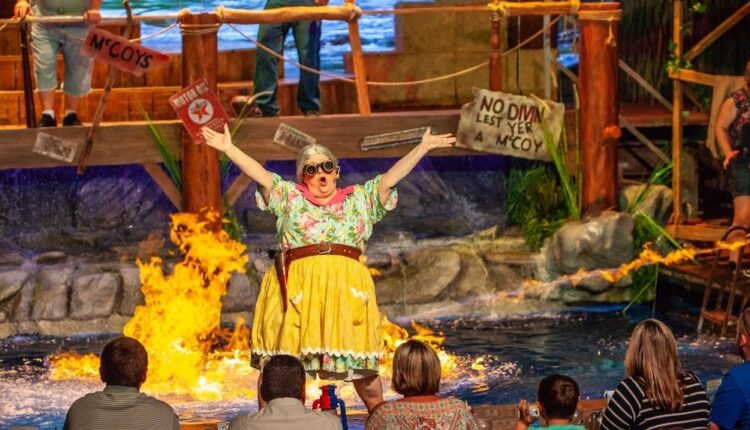 The adventure continues at the Swimming Hole
In addition to the side-splitting comedy capers and duets between Pa Hatfield and Ma McCoy, the sheriff and mayor entertain guests in an adventure that includes competitions and stunts on the "mountainside" and in the swimming hole that is part of the show set. In 2018, the theater added a 24-foot-deep Olympic diving pool with 300,000 gallons of water.  It's the only stage of its kind in the Smoky Mountains!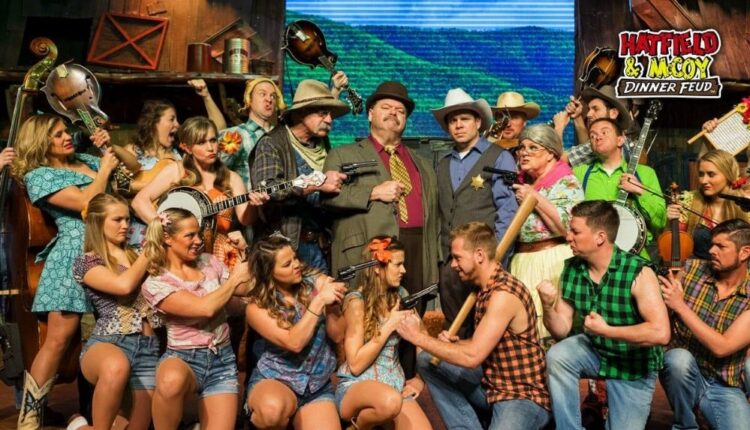 Feudin', feastin' and fun await at Hatfield & McCoy Dinner Feud
Get your tickets to the Hatfield & McCoy Dinner Feud show today and enjoy the feudin', feastin', family dinner adventure that is served up!
HATFIELD & MCCOY DINNER FEUD SHOW INFO
2-hour long show
Starts at 5pm daily
Full Southern Homestyle Feast* includes:
Feudin' Fried Chick'n
Open Pit Pulled -to-Pieces Pork Barbeque
Southern Style Creamy Soup
Smashed Mashed Taters
Buttery Corn on the Cob
Ma's Hot Homemade Bread
Daisy's Blue Ribbon Coleslaw
Granny's Famous Specialty Dessert
*Special meals selections are also available: Gluten Free, Dairy Free, Vegetarian, and Vegan. Contact the box office for details.