Finding Discounts in Pigeon Forge
Cost is often a deciding factor for many families when planning vacation spots… including mine! The first place to start when planning a trip to Pigeon Forge is, the Department of Tourism's website, www.MyPigeonForge.com! It is an extremely valuable tool for every Mom.
The site has coupons to help you save on attractions, dining, accommodations and more! The Ways to Save page lists many great tips on how to keep cash in your pockets. I've found the Vacation Packages definitely offer more bang for your buck for each season of the year.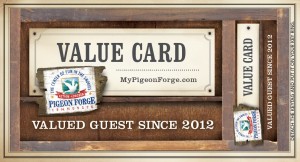 Another great tool on the website is a link to order a free Pigeon Forge Travel Planner and have it mailed to your home. Inside, there is a Value Card and it offers discounts at many local businesses. We have used it to save on lunch at Bennett's Bar-B-Que and even on rooms at the Inn on the River. If you forget to order it in time for your visit, just stop by the Welcome Center at traffic light #0 on your way into town and pick one up.
Be sure to check the My Pigeon Forge Fan Page for announcements about upcoming events along with comments/tips from other Pigeon Forge fans. I've heard that in October there will be something special just for the fans!
Don't forget that Pigeon Forge showcases a plethora of award winning talent. Many of the area shows offer combo discounts. For instance, the Hatfield and McCoy Dinner Show and Comedy Barn offer a combo ticket price when you purchase tickets to two different shows. So if you are planning on seeing a couple of different shows while you are in town…this is the way to go!
You may also want to check the websites of the area attractions and shows as many offer a discount if you purchase your tickets online. This is one of my favorites right now- Titanic is offering discounted tickets on their website if purchased in combination with Dolly Parton's Stampede or Comedy Barn tickets. Our little divas love all three of these attractions!
Plus, Dollywood and Splash Country have a great deal of their own, "Arrive after 3 pm, and the next day is free." Spend a few hours there the first day, then go back and spend the entire day there the next. This offer has allowed our family to be able to take in the whole park and not miss anything!
Remember having fun in Pigeon Forge can be affordable. Let these tips help you and your family enjoy more for less!