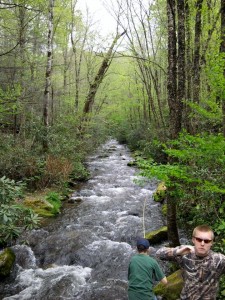 Fishing in the Smoky Mountains is a time honored tradition that has been occurring for centuries. Before the arrival of European settlers, the waters of the Smokies were fished by the native Cherokees. Since the creation of the national park in the 1930s, millions of fishermen have continued this tradition. Today, there are more than 2,000 miles of fishable streams in Great Smoky Mountains National Park.
If you've ever thought about fishing in the Smokies, you need to get some preliminary information on the subject first. Fishing is permitted from 30 minutes before official sunrise to 30 minutes after official sunset every day of the year.
Anglers are only allowed to use artificial flies or lures with a single hook on one hand-held rod. No live bait (minnows, worms, corn, bread, etc.) are allowed to be used in national park waters. The limit for daily possession is five brook, brown or rainbow trout, or smallmouth bass, or a combination of these. Fishing must cease immediately after the limit is reached.
A valid license or permit from Tennessee or North Carolina is required to fish in GSMNP, however these are not for sale inside the park. If you need to purchase a license there are plenty of places that offer them located just outside the park.
GSMNP is one of the largest (and most beautiful) wild trout habitats in the world. Anglers will certainly notice the remarkably unique setting of fishing for trout in the remote streams and rivers of the Smokies. For more information on rules and regulations or on streams that might be closed to fishing visit the National Park Service fishing page for how to plan your visit.