Great Smoky Mountains National Park Black Bears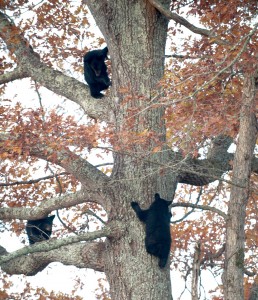 Arguably the most famous species of animal native to the Smoky Mountains is the black bear. It is estimated that more than 1,500 bears live in Great Smoky Mountains National Park, meaning the population density is around two bears per square mile! However, just because there are a lot of them doesn't necessarily mean that you'll see one on your visit.
There are no specific places where you can go and be guaranteed to see a bear. They are most active in the late spring and summer months especially early in the morning and late in the evening. Cades Cove is a good place to go if you're looking for the possibility of a bear sighting (or any other wildlife for that matter), but as previously stated, bears can be seen almost anywhere in the park.
Bears are wild just like the other animals that inhabit the Smokies. Often, they will avoid being close to humans thus making them hard to see and the majority of bear sightings in the park occur from a vehicle. Remember, never approach a bear and never feed or encourage one to approach you! Approaching within 150 feet, or any distance that disturbs a bear is illegal. Feeding a bear is detrimental because it often leads to a change in the animal's behavior and causes them to lose their instinctive fear of humans.
For more information on bears in the Smokies please visit: http://www.nps.gov/grsm/naturescience/black-bears.htm