GETTING TO PIGEON FORGE
BY CAR
Since Pigeon Forge is located off I-40, it's positioned within a day's drive of two-thirds of the U.S. population east of the Mississippi River. The city is a mere 33 miles southeast of Knoxville, four miles south of Sevierville, and five miles north of Great Smoky Mountains National Park.
Two other interstates run near the city, I-75 and I-81. They and I-40 are all connected to the city by State Route 66 and U.S. Highways 441, 411 and 321.
To get the latest Pigeon Forge travel info such as road conditions, and construction updates, visit TN511.com, dial 511 or call 1-877-244-0065 toll free.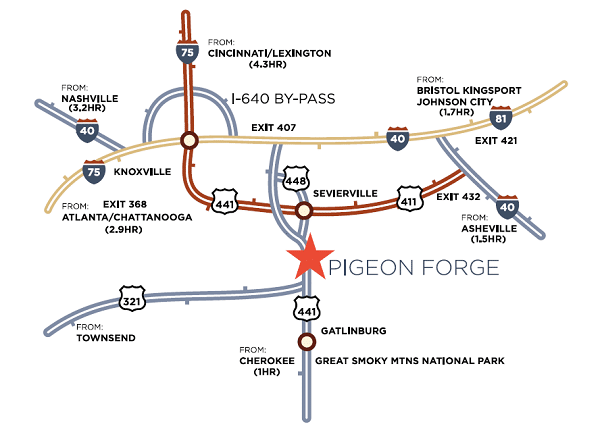 Please make note that, Tennessee law requires all occupants of motor vehicles to wear seat belts. There is also a mandatory child restraint law that requires children, infant to 12 years of age, to be secured in a child safety seat and/or in the back seat of the vehicle.
Distance to Pigeon Forge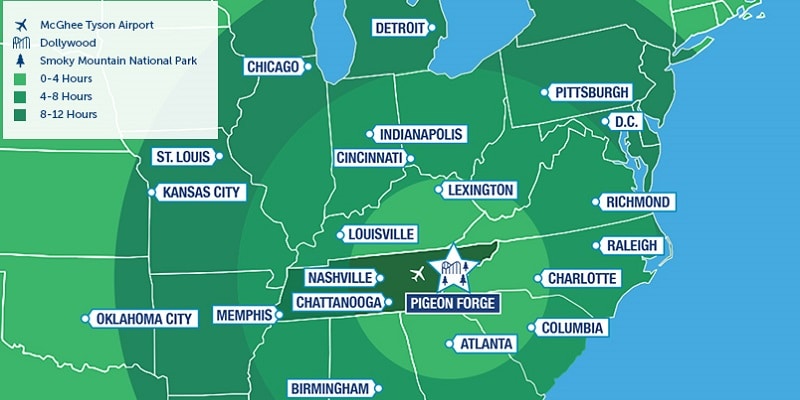 Asheville, N.C. 1.5 hours
Atlanta, Ga. 2.9 hours
Birmingham, Ala. 4.2 hours
Charleston, S.C. 5.4 hours
Chattanooga, Tenn. 2.0 hours
Cincinnati, Ohio 4.3 hours
Columbus, Ohio 6.0 hours
Greenville, S.C. 2.3 hours
Huntsville, Ala. 3.8 hours
Indianapolis, Ind. 6.1 hours
Lexington, Ky. 3.2 hours
Louisville, Ky. 4.3 hours
Mobile, Ala. 8.2 hours
Nashville, Tenn. 3.2 hours
Roanoke, Va. 3.9 hours
Tri-Cities, Tenn. 1.5 hours
*Times based on driving speed of 65 mph
BY AIR
McGhee Tyson Airport
McGhee Tyson Airport, located in Knoxville, Tennessee, is 47 miles from Pigeon Forge.  Airlines currently serving Knoxville include Allegiant Air, American Airlines, Delta Air Lines, Frontier Airlines and United Airlines.
For more information, visit the Knoxville's McGhee Tyson Airport website or call (865) 342-3000.
For updated direct flights from Allegiant Air beginning in the spring of 2020, click HERE.
Gatlinburg/Pigeon Forge Airport
Gatlinburg/Pigeon Forge Airport is located only seven miles away from Pigeon Forge.
For more information on general and corporate aviation, visit the Gatlinburg/Pigeon Forge Airport website or call (865) 453-8393.