November brings the start of the beautiful holiday season to Pigeon Forge. Lights, décor and celebrations of the most wondrous time of year fill the city. Not only can guests expect the best Southern hospitality around, but Pigeon Forge is also packed with top-notch attractions, amazing shows, incredible food and shopping, and plenty of accommodations to suit your family's style and budget. And the holiday season is no different!
Check out these fun events and things to do during the holidays in Pigeon Forge, Tennessee.
Experience a winter wonderland at Winterfest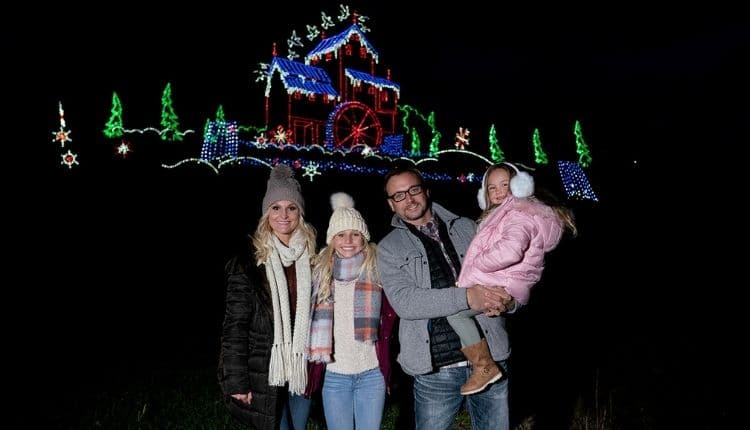 Nov 10, 2022 – Feb 19, 2023
The annual Smoky Mountain Winterfest gets better and brighter each year. Experience this winter wonderland featuring more than six million holiday lights that set the town aglow, captivating holiday shows and fun celebrations at area attractions. You'll quickly see why part of your family's holiday traditions should include a visit to Pigeon Forge!
Nov 11-13, 18-20, 25-27, 2022
Explore the Wonders of Light Christmas Village with more than 35 booths featuring artisans and crafters selling a variety of seasonal and gift items.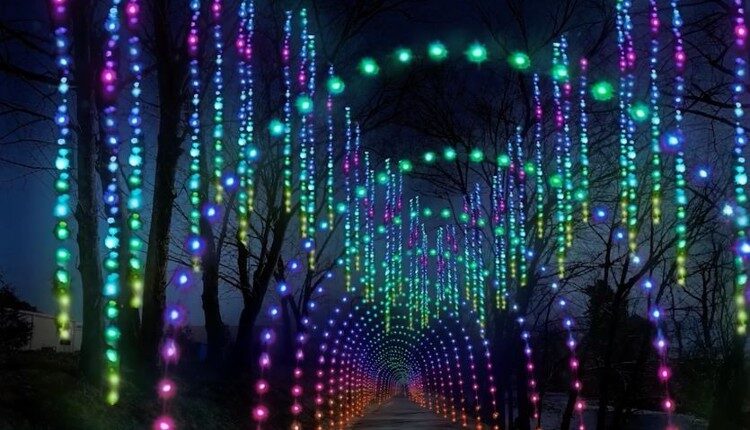 Nov 10, 2022 – Feb 19, 2023
Pigeon Forge Winterfest will be bigger and brighter this year as 20 new larger-than-life nature-themed outdoor lights displays are being installed this holiday season. The new addition, the Winterfest Wonders of Light Walking Trail, showcases Pigeon Forge's scenic Riverwalk nature trail.
Nov 13, 2022 – Feb 19, 2023
The best way to take in the beauty and splendor of all the holiday light displays throughout Pigeon Forge is on the Winterfest Driving Tour of Lights, which begins at the north end of the Parkway.
Get into the holiday spirit with amazing Christmas Shows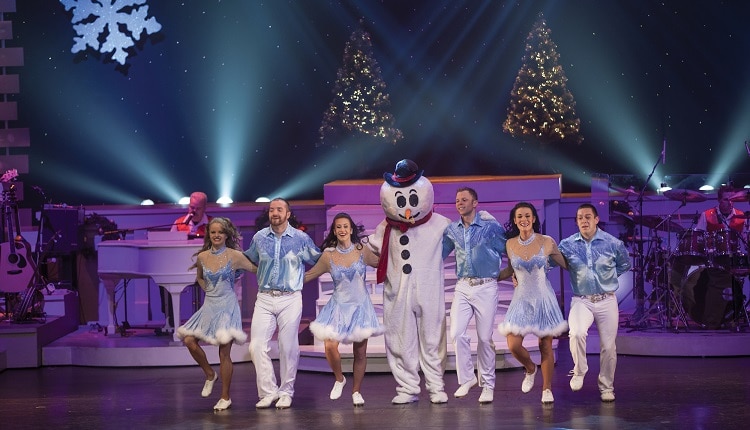 Nov 1 – Dec 30, 2022
Country Tonite presents a spirited holiday celebration filled with the sounds of holiday classics and special appearances by Frosty the Snowman and Santa Claus.
Nov 1 – Dec 31, 2022 
For an evening of fun, food and entertainment, watch the famous feudin' families as they try to set aside their differences at the Hatfield & McCoy Christmas Disaster Dinner Feud.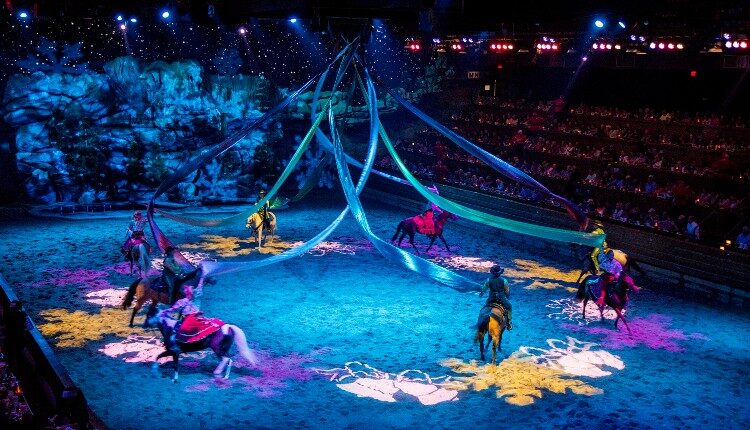 Nov 2 – Dec 31, 2022 
Delight in the great holiday entertainment by grabbing a seat at Christmas at Dolly Parton's Stampede. This amazing holiday show features 32 magnificent horses, a live nativity scene and an appearance from Santa himself. It's the Smokies' most fun place to eat during the holidays!
Nov 19 – Dec 31, 2022 
Comedy Barn brings a Christmas show like no other. With brand new acts combined with your favorite acts from the past, it's the funniest Christmas show in the Smokies!
Nov 21, 2022 – Jan 8, 2023
At Paula Deen's Lumberjack Feud Christmas Show!, families are invited to sing along to original tunes of the season, enjoy holiday twists on sporting competitions, sip some hot chocolate and cheer on the Dawson and McGraw families.
On November 26, the Christmas season begins with Paula's Tree Lighting Celebration at the Lumberjack Feud.
Most holiday shows in Pigeon Forge offer several show times throughout the day, so there will be plenty of chances to catch them all!
Show schedules vary and are subject to change without notice. Please confirm performance dates/times with the respective venue(s).
Enjoy holiday festivities at Dollywood's Smoky Mountain Christmas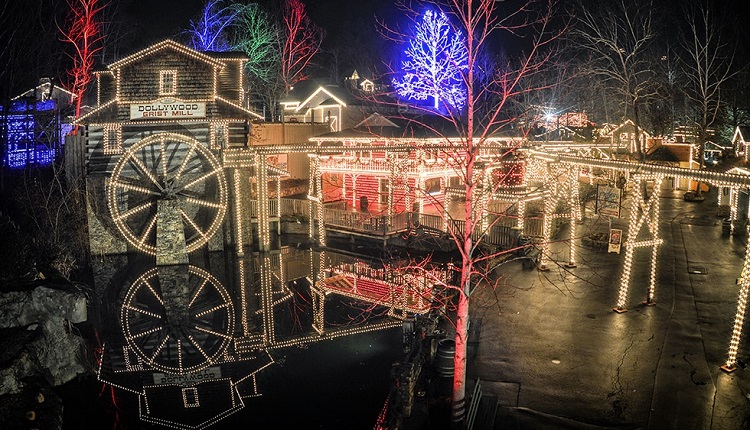 Nov 5, 2022 – Jan 1, 2023
Dollywood's Smoky Mountain Christmas has earned one of the industry's highest awards—the Golden Ticket—for twelve years! You're sure to get in the Christmas spirit with a stroll through more than five million holiday lights that set the park aglow.
Enjoy heartwarming holiday shows and tasty holiday treats, along with Dollywood's award-winning rides. Stroll through a winter wonderland experience at Glacier Ridge. And make sure to peek inside Santa's cabin to see whether your name is on the naughty or nice list!
Each night, the celebration concludes with a Christmas fireworks display called Merry & Bright! Dollywood's Smoky Mountain Christmas is the perfect way to celebrate the holiday season in Pigeon Forge.
Go for a holiday stroll through The Old Mill
Nov 10, 2022 – Jan 8, 2023
Celebrate the season with a fun-filled holiday stroll through The Old Mill. Stop to meet Santa, grab hot cider and treats and enjoy live music at Old Forge Distillery. You'll also find grab-and-go gifts and gift wrap to help you get a head start on all your holiday shopping!
Nov 15 – Dec 13, 2022
The Old Mill Farmhouse Kitchen offers hands-on cooking lessons of seasonal tasty delights for children ages 8-15. Available by reservation only.
Check out all the fun holiday celebrations taking place at area attractions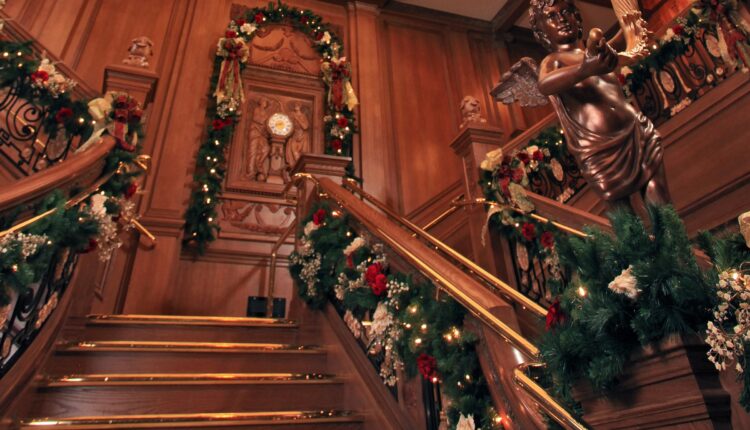 Nov 5, 2022 – Jan 8, 2023
Stop by and experience Titanic's holiday spirit. The ship will be aglow. Come exchange greetings with our Titanic crew or enjoy the glittering lights and the festive decorations.
Nov 10, 2022 – Jan 15, 2023
Enjoy one of the sweetest holiday celebrations taking place in the Smoky Mountains at Crave's Candy Christmas. The entire mini-golf course has been transformed into a candy-themed winter wonderland with festive trees, illuminated winter lights and FREE photo ops with Santa and the Christmas Grouch.
Nov 10, 2022 – Jan 15, 2023
Immerse yourself in the magic of the holiday season during Christmas at Toy Box Mini Golf. The toy-themed mini golf course will be covered in thousands of lights, giant ornaments and presents. There will also be FREE photo ops with Santa and the Grouch.
This holiday season be immersed in a magical adventure as you board The Polar Express™ Journey to the North Pole. Go beyond your imagination as you experience wind, mist, dips, turns and other amazing effects during the train's thrilling runaway episode… a new holiday tradition is waiting for you.
The Christmas-themed Xtreme Cornhole course is now open at Appalachian Axe Co Tennessee & Xtreme Cornhole! The courses have been redesigned for the holiday season and new challenges added. You can also try your hand at blacklight-themed axe throwing for even more family fun!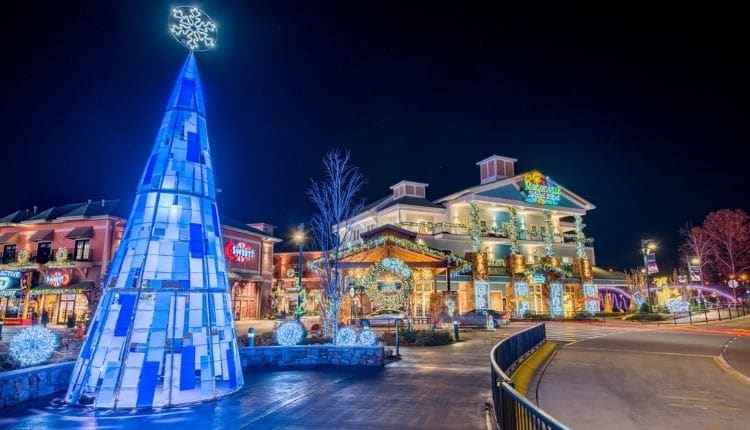 Nov 19, 2022 – Jan 5, 2023
Make plans to come check out Winterfest at The Island in Pigeon Forge. Watch as the choreographed 40-foot-high, LED Christmas trees and The Island Show Fountain courtyard come to life with this amazing holiday show.
Make plans now to spend the holidays in Pigeon Forge and make memories with your family that will be cherished for years to come!