Group Dining Does Not Have to be a Headache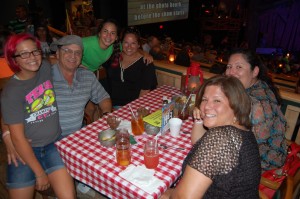 Dining choices for a family can sometimes be a challenge…so needless to say, even more challenging for a large group. However, with a little extra planning and a little patience, it can be no big deal! Pigeon Forge has so many great food options and the great hospitality of the city can make your dining experience a pleasure regardless of your group size.
During our recent trip with four softball teams and their families, the dining options of the city were definitely put to the test throughout our week long stay. Some families chose to buy groceries, cook at their cabins, and enjoy fellowship together in a more private way. Others wanted to truly enjoy vacation and not have to worry about cooking or cleaning up. So, they chose to have dinner out at many places throughout the city. We learned that with a larger group, calling ahead to let them know of the party size was a great help- for us and them. This way, we knew before heading out what the probable wait time was and how busy they were at the present time. Some of the restaurants let us make reservations which also helped us avoid a long wait. As much as our schedules allowed, our families also tried to eat at off times…..like lunch after the typical 11 am-1 pm rush and dinner before the typical 6 pm rush.
On several occasions, families went for the entertainment/dinner combo. Some of the top picks were Hatfield and McCoy Dinner Show, Dixie Stampede, and Lumberjack Feud. Dinner shows are a great option for those traveling with kids and even for a whole team activity. During the summer/peak season, most of them offer multiple shows each day. That was a great bonus in allowing for some flexibility with our hectic team schedules.
Other top dining choices amongst our families during the week were: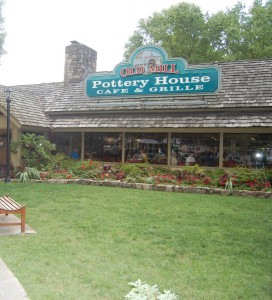 Bennett's Pit Bar-B-Que– You can't beat their great Southern slow smoked BBQ!
Mama's Farmhouse– This is a great place to share a family style meal!
Old Mill Restaurant– Here you get a taste of Southern comfort food at its best!
Pottery House Cafe and Grille– This is another great comfort food option!
Big Daddy Pizzeria– You can never go wrong with pizza for groups involving kids!
Timberwood Grill– Great place to enjoy dinner while also taking in the Island!
Mel's Diner– This place serves great American food in a classic diner setting…Fun times!
Alamo Steakhouse– This is the place to go if your group has big appetites!
A couple of the newest restaurants to hit Pigeon Forge are Hard Rock Cafe and Margaritaville. Our families enjoyed all that these 2 great places had to offer too from atmosphere to food and just plain 'ole good times with family and friends.
Don't let your group size scare you away from dining at any of the great places in Pigeon Forge. They are waiting to welcome you in!