Growing Up and Still Having Fun in Pigeon Forge!
Our family has been vacationing in Pigeon Forge since the little divas were ages 3 and 7.   It has been fun over the last few years to watch them grow into activities there as well as hear their "must do again" list for each trip. As we were sitting at our hotel eating breakfast during our recent end of summer visit, they got to exercise their power and plan a day of fun from their favorites list. Dad needed to take care of some work matters that morning, so there was fun to be had by just the girls!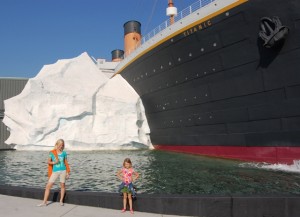 First off on their list was the Titanic Museum. They love to hear the crew members speak in accents and to roam around trying to learn about the person on their boarding pass. This visit, we gave the audio tour a try. It was really good for Peanut as she had to follow the numbers and punch them into her own keypad. It made her feel like a big girl J
Surprisingly, both girls were paying attention because when a crew member asked them "How many dogs were aboard Titanic?" they both knew the answer! Another fun fact that we laughed together about was the amount of soap required to get this massive boat off the launch ramp….lots of giggles when they heard the lady on their keypads say it was just like a present day slip n' slide!
As we were leaving the Titanic, they asked to go next door and see the animals outside at Hatfield and McCoy. They strolled around looking at the chickens, turkey, and goats and talking to "Roscoe Porkfield," the pig. Then they wanted to take pictures with all the cool outdoor yard decorations.
By this time, we were all hungry and it was mom's turn to choose her favorite. So, we headed to Pottery House Cafe and Grille. You can't beat the food and relaxing atmosphere there and I love the pottery dishes they serve their food on. Afterwards, I took the little divas next door to the Pottery Shop to see more of the dishes and we lucked out that one of the sculptors was making dishes on the potter's wheel. Peanut and Jellybean took a front row seat and didn't want to leave. Peanut was fascinated that a big blob of clay could turn into a big bowl by the time the guy was finished.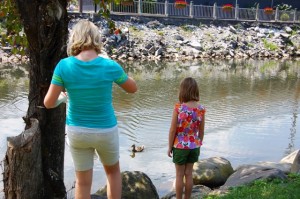 I finally convinced them to leave and we took a stroll around Patriot Park to help us burn off all the good food we ate for lunch! We had a nice time chatting as we walked along the path.  Jellybean stopped at the big Liberty Bell. She said that she remembered talking about it in her social studies class at school and pondered whether or not it was the real thing. The magnolia trees were in bloom and made a great backdrop for some pretty pictures of the girls.  And, of course, we had to feed the ducks before we left.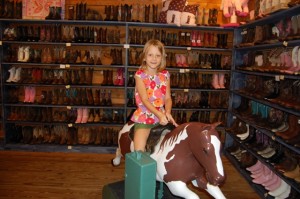 No girls' day is complete without a little shopping, so Jellybean and Peanut wanted to stop in Stages West and see the new "Backstage" addition. Since they love music the new area was a hit with them. They both wanted to hop on stage and try to be members of the mannequin band! Then they tried on some hats and boots. Peanut fell in love with the vintage coin operated horse and kept trying to play cowgirl while Jellybean and I looked around. This store is full of fun stuff and definitely made our girls shopping time fun!
After dad finished up his work, we decided to pick him up and let him join us for the rest of our fun day. We enjoyed family play time and some rock climbing at WonderWorks, dinner "Christmas style" at the Partridge and Pear, and then finished out the day at one of the little divas' favorite shows, Country Tonite.
Happiness covers me as I remember this fun day of memories with my girls!