A Dollywood Spring Festival Filled with Flowers, Food and Fun
Experience the beauty, color and flavors of spring at the annual Dollywood Flower & Food Festival taking place April 21 – June 11, 2023. From more than 500,000 beautiful blooming flowers to larger-than-life sculptures to garden-fresh dishes served up by Dollywood chefs, this is one spring celebration you won't want to miss!
Experience Dollywood in full bloom
A journey through Dollywood during the Flower & Food Festival will be filled with the beauty and colors of spring. See mesmerizing sculptures crafted from thousands of living plants and vibrant flowers that tower nearly 15 feet in the air. The tallest sculpture is of Dolly Parton's mother sewing the Coat of Many Colors. There are also sculptures of butterflies, a bear family, Smoky Mountain turtles and more.
Walk alongside the majestic floral carpet bed that forms the image of a spectacular Smoky Mountain sunrise. Another highlight of this amazing spring celebration is the colorful Umbrella Sky. Guests will be in awe of the vibrant colors of the many umbrellas that float high above Dollywood's Showstreet. Make sure to bring your camera, as photo opportunities await around virtually every corner!
Enjoy live music throughout Dollywood park
From theaters to outdoor stages to along the walkways, music will fill the air throughout the Dollywood park during the Flower & Food Festival. The Spring Concert Series features an uplifting and inspiring set of musical performances from a variety of genres.
Another live show, A Brighter Day, takes place each day at the Back Porch Theater. Guests are sure to enjoy this uplifting and inspiring show featuring Dollywood's award-winning performers as they sing popular music favorites from Carrie Underwood, Martina McBride, Rascal Flatts and more country music artists.
Enjoy culinary delights for one low price with the Dining Pass
Dollywood's culinary team is going all out for this year's festival fare! The Flower & Food Festival Dining Pass is another new addition to this year's festival. The pass allows guests to choose five different entrees to enjoy during the festival for one low price.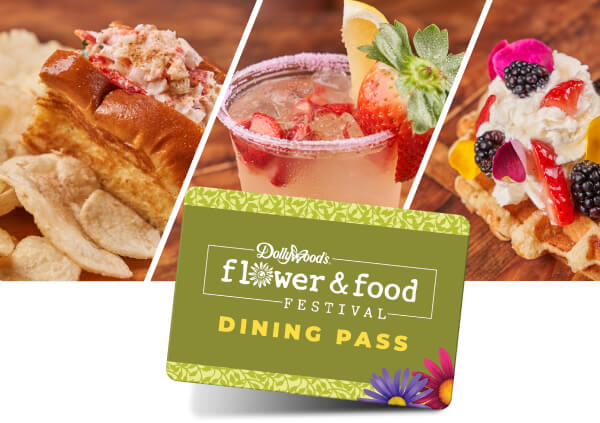 From freshly-grilled Cuban sandwiches to a classic fish and chips combo to delectable lobster rolls, it's a menu filled with flavors that can't be beat! And for dessert, enjoy the park's famous funnel cake topped with blueberries, blackberries, raspberries and Chantilly cream or try a unique treat like the Liege waffle ice cream sandwich.
Purchase your Flower & Food Festival Dining Pass today and enjoy a flavor-filled festival you won't soon forget!
How does Dollywood's Flower & Food Festival Dining Pass work?
Dollywood's Flower & Food Festival Dining Pass is attached to a lanyard and available to purchase with your park tickets. Passes are valid any day during the Flower & Food Festival. Dining passes can be purchased at the park, online or at one of the select culinary locations inside the park.
Get your Dollywood tickets now to experience this amazing spring celebration filled with flowers, food and fun!
All photo credits go to Dollywood